132 Batches of Imported Food Rejected by China CIQ in February 2015
original article from CIRS
The report of General Administration of Quality Supervision, Inspection and Quarantine of the People's Republic of China (AQSIQ) listed the unqualified imported food in February 2015. There were 132 batches of imported food returned or destroyed by local CIQs in total, which is the lowest of recent months.
There are mainly 5 reasons for CIQ rejection, which covered more than 84% of the rejected batches. Respective proportions are shown in Figure 1.
Figure1. Non-compliant Reasons for Rejected Imported Food in February2015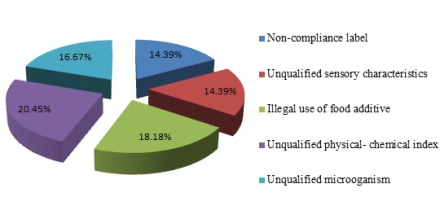 Highlights:
1.Aquatic products (HS 030) have become the hardest-hit category, there were 2458.04 tons of aquatic products rejected by local CIQs and mainly due to the unqualified sensory property and contaminations.
2.As always, unqualified physic-chemical index, microorganism index and inappropriate usage of food additives including nutrition enhancers are the important reasons for rejection of the imported food. In the last three months, 225 batches of cereal, grain powder, cakes and dessert products (HS code 19) were rejected for these reasons. For overseas enterprises, you should firstly confirm if the food additives you used are approved in China according to GB 2760-2011 and GB 14880-2012 or you may consult food regulatory agencies in China to help before exporting the products into China market. Besides, to guarantee that the product quality comply with the requirements of Chinese national standards, pre-testing according to the relevant product national standards (GB) is very necessary and helpful to reduce the rejection risk effectively. Detailed information regarding procedures of food imported into China can be found here.
If you have any questions about the contents mentioned above, please do not hesitate to contact us.
For more information about GMF label, please click here.
Downloads:
CN version of GB 2760-2011Food Safety National Standards for the Usage of Food Additives and GB 14880-2012 Food Safety National Standards for the Usage of Nutrition Enrichment can be downloaded here
Reference :
http://jckspaqj.aqsiq.gov.cn/jcksphzpfxyj/jjspfxyj/jjbhgsptb/201503/t20150317_434444.htm
We welcome you to visit our new website in food area
http://www.cirs-group.com/food/
Contact Us
CIRS China

Hangzhou CIRS Co. Ltd (CIRS China)

11F Building 1, Dongguan Hi-Tech Park, 288 Qiuyi Road, Binjiang District, Hangzhou 310052, China

Tel: +86-571 8720 6574 | Fax: +86-571 8720 6533

Email:

service@cirs-reach.com
-