Experts from CIRS has been Invited to Teach the International Regulatory Course at SCHC Spring Meeting
original article from CIRS
On 16 March 2015, SCHC held an international regulatory course section at the SCHC Spring Meeting. Mr. Ethan Zheng, Senior Regulatory Consultant and BD Manager from CIRS, has been invited to teach the course on the topics of chemical regulatory affairs in China, Japan, Korea and Taiwan.
The whole course included the topics of chemical regulatory affairs in USA, Canada, Europe, Japan, Korea, China, Taiwan, Philippines, Australia, New Zealand, Malaysia and Turkey.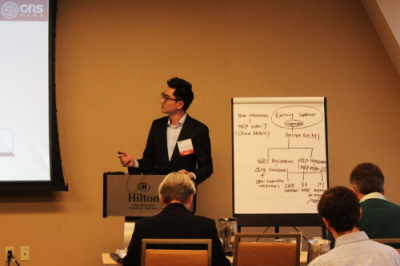 Ms. Chandra D. Gioiello, who is the Chair of the Social Media Committee from SCHC, covered the topics on chemical regulatory laws in US, Australia and New Zealand. She talked about the basic concept of the chemical regulations in all the mentioned areas, and the comparison between each area. Moreover, she also gave some advices on how companies should comply with the regulatory laws to the attendees.
Ms. Denese A. Deeds, who was the previous president of SCHC, co-founder of Industrial Health & Safety Consultants, Inc, talked about the chemical regulations in Europe, Philippines and outlooks in Malaysia and Turkey. She gave a very detailed introduction and a deep interpretation on the EU REACH, which gave the attendees a lot of information and advices on what they should do to remove the road blocks of their business into Europe. As well as EU REACH, she also made a brief introduction on the Philippines chemical regulation. Things like exemptions, timing and data requirement were included. Moreover, an outlook of chemical regulation in Malaysia and Turkey was also made.
Ms. Pamela Kreis is the VP and co-founder of Scientific & Regulatory Solutions, LLC, the coordinator and instructor for the course offered by SCHC. She taught the chemical regulatory laws in Canada. Topic included the new substance notification, information of the chemical inventory, exemptions, data requirement, timeline and comparison with TSCA. It was a very detailed talk that covered almost all the information for the Canada chemical regulation.
Mr. Ethan Zheng, senior regulatory consultant and BD manager from CIRS, covered the chemical regulatory laws in areas of China, Japan, Korea and Taiwan. For China chemical regulation, contents of new substance notification, hazardous chemical registration and management, and different regulations under different Orders from different department were all covered. Details about timeline, procedures and data requirement were also included. For Japan, Korea and Taiwan, contents of new substance notification, existing substance registration, procedures and data requirement were demonstrated. Comparison between each area and advices for companies were also presented by Mr. Zheng.
After the course, a poster was also presented by Mr. Ethan Zheng and Dr. Michael Zhang. Dr. Michael Zhang is the Head of Research & Development from CIRS. Chemical regulations in China, Korea and Taiwan were presented in the poster, which attracted a lot of attentions and many questions were asked by the attendees regarding the chemical regulations in Asian region. Since the market in Asia, especially China and Korea, is getting larger and larger. Companies from all over the world are trying to get into the Asian market as soon as possible to make as much profit as possible. CIRS advices that enterprises should comply with the regulations in the targeted area in order to move away the trade blocks for their business.
If you have any questions, please do not hesitate to contact us and we will be ready to help.
Contact Us
CIRS China

Hangzhou CIRS Co. Ltd (CIRS China)

11F Building 1, Dongguan Hi-Tech Park, 288 Qiuyi Road, Binjiang District, Hangzhou 310052, China

Tel: +86-571 8720 6574 | Fax: +86-571 8720 6533

Email:

service@cirs-reach.com
-