The 1st Summit on Cosmetic Regulations in the Asia-Pacific (SCRA 2015) will be held in Shanghai
original article from CIRS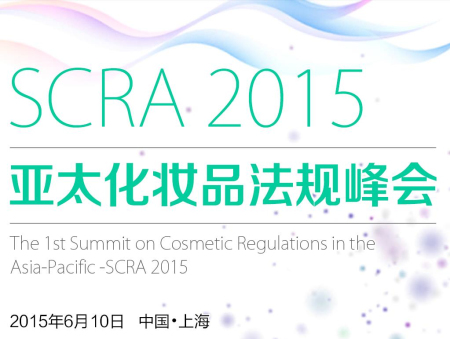 Chemical Inspection & Regulation Service Limited (CIRS) warmly welcome you to attend the 1st Summit on Cosmetic Regulations in the Asia-Pacific (SCRA 2015) on 10 June 2015 in Shanghai. The summit will focus on the cosmetic regulations and safety management in Asia-Pacific regions. SCRA will invite cosmetic regulatory experts, officials and industry representatives to share regulatory updates and compliance solutions with delegates. Aiming at assisting collaboration among countries in Asia-Pacific regions, establishing transparent sharing platform for regulations and enforcement measures, and promoting the safety and sustainability of cosmetic industry, SCRA 2015 is regarded as the pioneer summit in China to communicate cosmetic regulations in Asia-Pacific regions.
Now, the speakers and agenda of SCRA 2015 are confirmed. Early subscribers can avail of a discount on the early subscription fee. Don't miss this great opportunity to know more about cosmetic regulations, news, updates and trends in Asia-pacific region.
[Download the brochure of SCRA 2015]
Features of SCRA 2015
The outlook, opportunities and challenges of Chinese cosmetic industry in 2015;
The updates of cosmetics and new cosmetic ingredient registration requirements in China;
Latest cosmetic management information in Japan, Korea and other Asian countries;
Online supervision on cosmetic products in China.
Time, location and language
Date: 10 June 2015
Location: The Hongta Hotel, a Luxury Collection Hotel (Address: 889 Dong Fang Road, Pudong District, Shanghai, China)
Language: English/Chinese
Who Shall Attend
Chief Operating Officer or Chief Technical Officer
Purchasing or Sourcing Manager - Cosmetics/Cosmetic ingredients
Quality Control Manager
Regulatory Affairs Specialist
Product Registration Specialist
Import/Export Manager - Cosmetics/Cosmetic ingredients
Agenda
Date & Time

Agenda

Speakers

9 Jun 14:00-19:00

Delegates Registration

10 Jun 8:00-8:50

Delegates Registration

10 Jun 8:50-9:00

Welcome Speech

10 Jun  9:00-12:20

9:00-9:30

The current status and management trends of Chinese cosmetics and cosmetic ingredients in 2015.

Mr. Li Nan Deputy Director, China Food and Drug Administration-Drug and Cosmetic Supervision Department- Cosmetic management office

9:30-10:00

Measures on the management of imported non special use cosmetics in Shanghai

Mr. Zhou Dengxue  Director, Shanghai Food and Drug Administration -Cosmetics Supervision Department

10:00-10:20

Tea Break

10:20-10:50

The supervision of online cosmetic market in China

Ms. Zheng Juxiang   Director, Zhejiang Food and Drug Administration -Cosmetics Supervision Department

10:50-11:20

The latest policies of supervising imported/exported cosmetics in China

Ms. Sun Jiawen  Section Chief, Shanghai Entry-Exit Inspection and Quarantine Bureau-Food Safety Department

11:20-11:50

The safety evaluation of cosmetic ingredients and its current status and management trends in China

Mr. Xu Liang   Director, Beijing Daily-Use
Chemicals Institute

11:50-12:20

30 Min Q&A

10 June  13:30-17:50

13:30-14:00

Guidance on exporting cosmetics to Japan

Mr. Junji Yamamoto   Senior Managing Director, Japan Cosmetic Industry Association

14:00-14:30

The latest updates of Korean Cosmetic Regulations and its influence on corporations

Mr. Jaeho Yeon   Chief Manager,
Amorepacific Shanghai R&D Center

14:30-15:00

How do enterprises deal with ASEAN cosmetic regulations?

Mr. Teh Chee Kheng  President, Society of Cosmetic Scientist of Malaysia

15:30-15:50

Tea Break

15:50-16:20

New cosmetic ingredient registration in China  

Ms. Zhang Hongwei  Director, Institute of Environmental Health and Related Product Safety, China Center for Disease Control & Prevention

16:20-16:50

Current status of alternative testing methods of cosmetics in China

Ms. Xiao Ping  Director, Shanghai Municipal Center for Disease Control & Prevention

16:50-17:20

Interpretations of requirements for efficacy test with cosmetics in China

Mr. Wang Xuemin  Vice-President, Shanghai Dermatology Hospital

17:20-17:50

30 Min Q&A
How to Register
The registration fee is 1800 RMB (300 USD/280 EUR). The fee does not cover the cost of transportation and accommodation. The early birds registration fee 1500RMB (250 USD/240 EUR) is available before 1st June 2015 based on registration fee received.
For the information of registration, please download [registration form], fill in and send to Ms. Grace Chen. If there are any questions and comments, please do not hesitate to contact us.
Contact Us
CIRS China

Ms. Grace Chen

CIRS Business Development Manager

Tel: +86-571 8720 6574 | Fax: +86-571 8720 6533

Email:

grace.chen@cirs-group.com

11F Building 1, Dongguan Hi-Tech Park, 288 Qiuyi Road, Binjiang District, Hangzhou 310052, China
We look forward to your participation!
-