About Us
Chemical Inspection and Regulation Service(CIRS) is a leading product safety and chemical management consulting firm providing valued product regulatory compliance service, tailored solutions and original information to help our clients gain competitive advantage by reducing business risks associations with regulatory affairs and removing barriers to entry.
With its headquarter based in Hangzhou of China and offices or laboratories located in Ireland, Nanjing, and Ningbo, CIRS utilizes its technical expertise, various resources and global network to provide comprehensive compliance services such as chemical notifications, global GHS compliance, pesticides and biocides registration, cosmetics and new cosmetic ingredient registration, medical device registration, food and food-related products compliance services, testing, regulatory update monitoring and training service.
Mission
We are dedicated to providing valued chemical compliance services, tailed solutions and original information to help our clients gain competitive advantages by reducing business risks associated with regulatory affairs and removing barriers to entry. 
Service Philosophy
Creativity Consultants need to be creative enough to be able to solve all kinds of complex issues very quickly and reduce costs. We keep our clients' interests in mind and think for them in advance by providing tailored and innovative solutions through our scientific knowledge and teamwork.
Integrity
Every client is important to us and deserves great respect. We act honestly to provide the best services on the market in the hope that we can get the same respect from our client.
Responsibility
We understand the importance of achieving regulatory compliance& protecting business interest. We keep this in our mind all the time when helping our client reduce business risks and gain market advantage.

Sustainability
Sustainability is not just a word. We truly believe that sustainable development is the only solution to today's environmental and health issues. We also look forward to building long-term partnerships with our clients and growing together.
Our Services
Chemical Notification
EU REACH Only Representative (OR)
EU REACH Late-preregistration
EU REACH Registration (Lead Registrant & Joint Submission)
EU SVHC Notification
China New Chemical Substance Notification
China Hazardous Chemical Registration
Chemical Notification in Other Asian Countries (Korea, Japan, Australia, Philippine, Thailand, Vietnam, etc)
Chemical Risk Assessment
Global GHS Compliance Services
EU CLP SDS and Labeling
Chinese SDS and Labeling
Japanese and Korean SDS and Labeling
GHS in Other Asian Countries or Regions, e.g. Philippine, Taiwan, Malaysia, Korea, Japan, India, Thailan, Vietnam;.
Chemical Consumer Products Labeling Review
24h Emergency Telephone Number Service
Registration of Agrochemicals and Biocides
Pesticide Registration in China
Disinfectant Registration in China
Drinking Water Related Product Registration in China
Pesticide Registration in EU, USA and Brazil, etc.
EU Biocidal Product Registration
Labeling Preparation of Biocides Treated Articles
Registration of Cosmetics and New Ingredient
SFDA Registration of Cosmetics in China
Registration of New Cosmetic Ingredient in China
Cosmetics Registration in EU
Registration of Cosmetics in Other Countries or Regions (Korea, ASEAN, etc.)
Toxicology Safety Assessment
Review of Product Formula and Label
Registration of Medical Devices in China
Preparation and Verification of Product Registration Standard
Medical Device Registration Testing Service
Development of Clinical Protocols and Coordination of Clinical Trials
Medical Device Customs Clearance
Verification and Submission of Medical Device Advertisement
Application of Operation License for Medical Devices
Food and Food-related Products Compliance in China
Registration of New Food Contact Additives
Migration Tests for Food Contact Materials
Registration of New Food Additive or Food Raw Material
Ingredient Review and Package Review for Pre-packaged Food
Registration of Dietary Supplement in China
Registration of Overseas Manufacturer of Diary Products.
Dairy Product Label Compliance Service
Genetically Modified Product Detection Service
Food Pesticide Residue Testing.
Customs Clearance Assistance.
Testing Services
Agent for GLP Testing Services
Agent for China Eco-toxicology Testing
In-vitro Testing
Alternative Methods
Hazardous Chemical Testing
Other Products & Services
Regulatory Update Monitoring
3E Ariel WebInsight
Regulatory Compliance Assessment & Consultancy
Supply Chain Information Management
Training Services
IT System Development
Our History
Nov 2013, CIRS started offering food and food-related product compliance services for China.

Oct 2013, CIRS started offering medical device registration service for Chinese market.

Apr 25th 2013, CIRS sighed partnership agreement with 3E Company in Hangzhou to offer Chinese companies streamlined and expanded access to the chemical, regulatory, and compliance information services.

Oct 24-25th 2012, CIRS successfully held the 2nd Shanghai Summit Meeting on Chemical Regulations in China, Korea and Japan;
Jul 6th 2012, CIRS signed partnership agreement with Japan Environmental Management Association For Industry (JEMAI) in Tokyo to provide Japanese chemical compliance services;
Nov 2nd 2011, CIRS signed partnership agreement with Korea Testing and Research Institute (KTR) in Shanghai to provide Korean chemical compliance services to its clients;
Aug 18th 2011, CIRS signed partnership agreement with China Inspection and Quarantine Bureau (CIQ) Ningbo to build a GLP laboratory for toxicology tests;
Apr 12th 2011, CIRS Nanjing was established as a joint-venture of Nanjing Chemical Industrial Park and CIRS;
Dec 10th 2010, CIRS published 2010 REACH Annual Report criticizing high LOA costs and consortium costs, drawing lots of attention from industry;
Jun 2010, CIRS built a team to provide cosmetics and pesticide registration services;
Mar 31st 2010, "Risk Assessment of Chemicals-An Introduction", translated and reviewed by CIRS, was published. In April, CIRS completed the first Chemical Safety Report (CSR) in China.
October 2009, CIRS started offering China New Chemical Substance Notification service, comprehensive chemical compliance services in China;
Mar 2009, CIRS became a member of Industrial Development Authority (IDA) of Ireland;
Mar 23rd 2009, CIRS completed full REACH registration and obtained the first REACH registration number in China;
Dec 1st 2008, the six-month period of REACH pre-registration ended. CIRS submitted nearly 40,000 pre-registrations for more than 2,000 companies, contributing around 88% of all the pre-registrations in Ireland;
Jun 1st 2008, CIRS completed the first REACH pre-registration;
Apr 7th 2008, CIRS Ireland was founded;
Aug 30th 2007, CIQ REACH Solution Center and Hangzhou CIRS Co.,Ltd signed official cooperation agreement in Hangzhou;
Aug 23rd 2007, China General Administration of Quality Supervision, Inspection and Quarantine (AQSIQ) held a REACH workshop in Beijing and passed the "Blue Sea Scheme". Senior Researcher Mr Cong Li was appointed as the head of CIQ REACH Solution Center.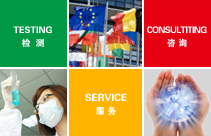 Download