256 Batches of Imported Food Rejected by China CIQ in January 2015
original article from CIRS
The report of General Administration of Quality Supervision, Inspection and Quarantine of the People's Republic of China (AQSIQ) listed the unqualified imported food in January 2015. There were 256 batches of imported food returned or destroyed by local CIQs.
There are mainly 6 reasons for CIQ rejection, which covered more than 83% of the rejected batches. Respective proportions are showed in Figure 1.
Figure1. Non-compliant Reasons for Rejected Imported Food in January2015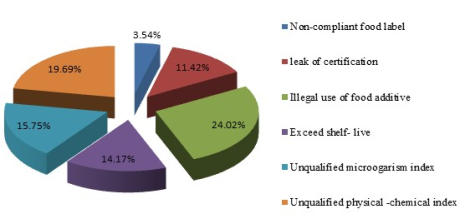 Highlights:
1.Infectious salmon anaemia virus was continuously detected from Norwegian fresh salmon
In June 2014, Shenzhen CIQ detected the infectious salmon anaemia virus in iced fresh salmon which are imported from Norwegian. After that, the detection of the iced fresh salmon has become more stringent, since the iced fresh salmon has been regarded as a high risk food. Each batch of fresh salmon will be required for a thorough detection. The infectious salmon anaemia virus was detected from Norwegian iced fresh salmon for four times in total from June 2014 to January 2015. In January 2015, there were 6 batches of Norwegian iced fresh salmon rejected for containing the infectious salmon anaemia virus.
2. Illegal use of food additives
In January of 2015, there were 61 batches of imported food rejected because of the illegal use of food additives. In most cases, an approved food additive has been used for a wrong application scope, so that the final product is non-compliant. In other cases, because of the differences of the requirements regarding food additives between different countries, a food additive which has already been approved in other countries will not be able to be used in China. For example, in Taiwan, bamboo charcoal powder could be used as a food additive in biscuit, however, in China the bamboo charcoal powder has not yet been listed in the positive list of approved food additives.
3. Genetically Modified Food (GMF) should be labeled correctly
There were 6 batches of soymilk beverage from Thailand were detected positive in genetically modified organism (GMO) without any declaration on the label. To protect the consumers' rights to know, Food Safety Law stipulated that imported GMFs should be correctly labeled according to The Regulations of Genetically Modified Organism in Agriculture. Related product manufactures should pay more attention on this issue.
For more information about GMF label, please click here.
The English version of GB 2760-2014National Food SafetyStandards for the Usage of Food Additives is available. If you need, please do not hesitate to contact us.
Reference :
http://jckspaqj.aqsiq.gov.cn/jcksphzpfxyj/jjspfxyj/jjbhgsptb/201503/t20150305_433598.htm
Contact Us
CIRS China

Hangzhou CIRS Co. Ltd (CIRS China)

11F Building 1, Dongguan Hi-Tech Park, 288 Qiuyi Road, Binjiang District, Hangzhou 310052, China

Tel: +86-571 8720 6574 | Fax: +86-571 8720 6533

Email:

service@cirs-reach.com
-