How to register mosquito repellents in China?
Original Article from CIRS
Introduction of Mosquito Repellents
Mosquito repellents, which commonly used in household, field and feeding area, can help people avoid mosquito bites and help prevent and control the outbreak of diseases.
There are now varieties of mosquito repellents on the market, which can be summarized into three categories:
Chemical-based repellents (eg. DEET, picaridin, permethrin)
Synthesized Plant Oils (eg. Oil of Lemon Eucalyptus, IR3535)
Natural (Nonsynthesized) Plant Oils (eg. soybean, lemongrass, citronella, cedar, peppermint, lavender, geranium or geraniol, et al)
The majority of mosquito repellents are considered as pesticides in many countries (including China). Mosquito repellents fall into the category of Public Health Pesticide and shall be registered prior to marketing and importing into China.
Why Mosquito Repellents are Pesticide in China?
Internationally, mosquito repellents now have been registered as pesticides in America, Japan, Australia, Indonesia, Malaysia, Korea, Vietnam and many other countries and regions (in the European Union, treated as BPR). According to the Convention on International Prior Informed Consent Procedure for Certain Trade Hazardous Chemicals and Pesticides in International Trade Rotterdam (The Rotterdam Convention) developed jointly by FAO, WHO and UNEP, mosquito repellents are counted as pesticides.
Management on mosquito repellents has been prescribed in section 5 of article 2 of the Regulations on Pesticide Administration (RPA) in China. Any substances or mixtures used to prevent, wipe out or control mosquitoes, flies, cockroaches, rodents and other harmful organisms to living environment of people are regarded as pesticides and shall be administrated by the Ministry of Agriculture (MOA).
Formulations of Mosquito Repellents
In China, 70% public health pesticides are mosquito repellents, and more than 20 formulations have been registered. Currently, the registered formulation of mosquito repellents mainly is aerosol (AE), which accounts for about 28% of all formulations. The second is mosquito coil (MC), accounting for around 24%. More details can be found in the following pie chart.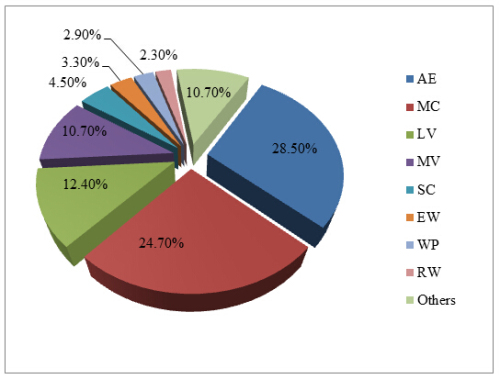 The Registration Profile of Foreign Enterprises in China
So far, only a few foreign enterprises have registered their mosquito repellents in China. The involved enterprises mainly are sino-foreign joint ventures and multinational corporations, including American Johnson company's joint venture in China, Germany BASF and Bayer, Japan Sumitomo Chemical Corporation and Astor Pharmaceutical Corporation, Swiss Syngenta, Korea Henkel home care Co. Ltd. etc. ---Source from ICAMA official website
By the statistics, there are now 102 mosquito repellents registration certificates hold by overseas companies, which account for merely 6% of the total 1649 certificates. Among these 102 registrations, major formulations are aerosol (AE), then followed by liquid vaporizer (LV), vaproizing mat (MV), and mosquito coil (MC).
How to Register Mosquito Repellents in China?
Whoever wants to register mosquito repellents in China shall meet certain entry criteria. In accordance with China laws, only pesticide manufacturers are allowed to apply for pesticide registration. For domestic applicants, they must be state designated pesticide manufacturers. For overseas applicants, they shall submit necessary documentations to show their production capacity.
Data requirements for mosquito repellents are listed below:
Application form
Summary
Products chemical data: Identification, Specification, Analytical method etc
Toxicological data
Environmental data
Effective data (for formulated products only)
Label and MSDS
Compared with field pesticides, the mosquito repellents are relatively simple in data requirements, the time and cost on registration shall be reduced correspondingly.
Abbreviation:
AE: Aerosol MC: Mosquito coil
LV: Liquid vaporizer MV: Vaporizing mat
SC: Aqueous suspension concentrate EW: Emulsion, oil in water
WP: Wettable powder RW: Repellent floral water
For further information about pesticide registration in China, please contact us below.
Contact Us
CIRS China

Hangzhou CIRS Co. Ltd (CIRS China)

11F Building 1, Dongguan Hi-Tech Park, 288 Qiuyi Road, Binjiang District, Hangzhou 310052, China

Tel: +86-571 8720 6574 | Fax: +86-571 8720 6533

Email:

service@cirs-reach.com
-