261 Batches of Imported Food Rejected by China CIQ in October 2014
Original Article from CIRS
The report of General Administration of Quality Supervision, Inspection and Quarantine of the People's Republic of China (AQSIQ) listed the unqualified imported food in October 2014. There are 287 batches of imported food returned or destroyed by local CIQs.
Most of these rejected foods were imported from Austria, USA, Taiwan, Italy, France, Korea, Vietnam, Japan and etc. The total weight was 579 tons. Further details were showed in the following two figures.
Figure 1. Incompliant Imported Food Category in October 2014
Figure 1 shows that the total weight of unqualified fish and crustaceans, molluscs and other aquatic invertebrates (HS code 3) makes up over half proportion of all unqualified imported food. Dairy products, egg, natural honey and other edible animal products (HS code 4) also occupy a high percentage and followed by Cereal, grain powder, starch or milk products, cakes and dessert (HS code 19); beverage, spirits and vinegar (HS code 22); meat and edible meat offal (HS code 2) and others.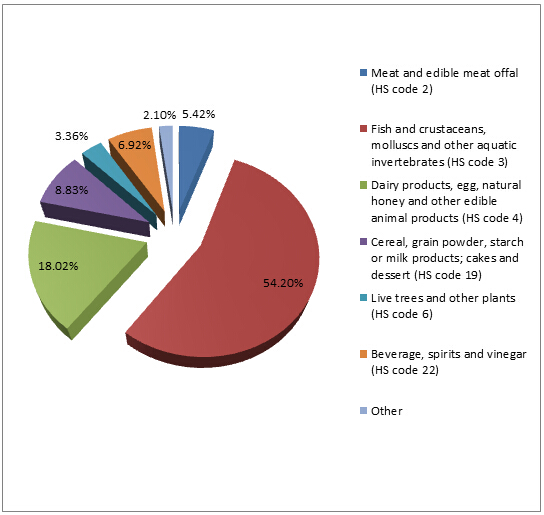 Figure 2. Incompliant Reasons for Rejected Imported Food in October 2014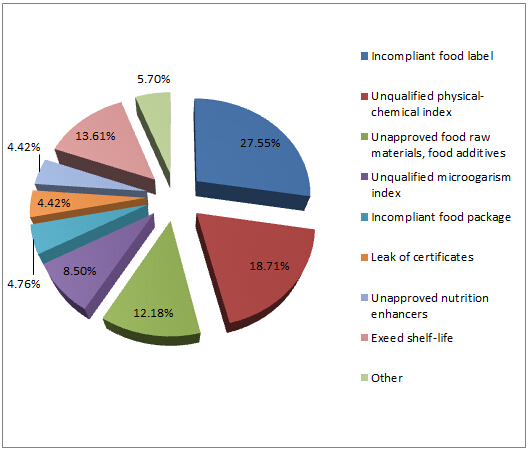 8 major rejection reasons and their respective proportions were showed in Figure 2. Compared with last few months, incompliant food label increased significantly, which has the highest occupancy of all eight rejection reasons. 81 batches of imported food were rejected because of the incompliant food label. Unqualified physical-chemical index (55 batches) was the second highest. Moreover, the exceed shelf-life (40 batches) and unapproved food raw materials and food additives (36 batches) were also among the major rejection reasons.
Information about how to compliantly export prepackaged food into Chinese market can be found here.
If you need more information, please send us an email.
Contact Us
CIRS China

Hangzhou CIRS Co. Ltd (CIRS China)

11F Building 1, Dongguan Hi-Tech Park, 288 Qiuyi Road, Binjiang District, Hangzhou 310052, China

Tel: +86-571 8720 6574 | Fax: +86-571 8720 6533

Email:

service@cirs-reach.com
-