China releases GB 31701-2015 Safety Technical Code for Infants and Children Textile Products
original article from CIRS
Standardization Administration of the People's Republic of China released Mandatory National Standard GB 31701-2015 Safety Technical Code for Infants and Children Textile Products, the first mandatory national standard for infants and children textile products, on 26 May 2015. It standardizes the overall safety of children's wear and it will be beneficial for enterprises to raise safety and quality thereof thus to protect health and safety of children. The standard will be officially implemented on 1 June 2016.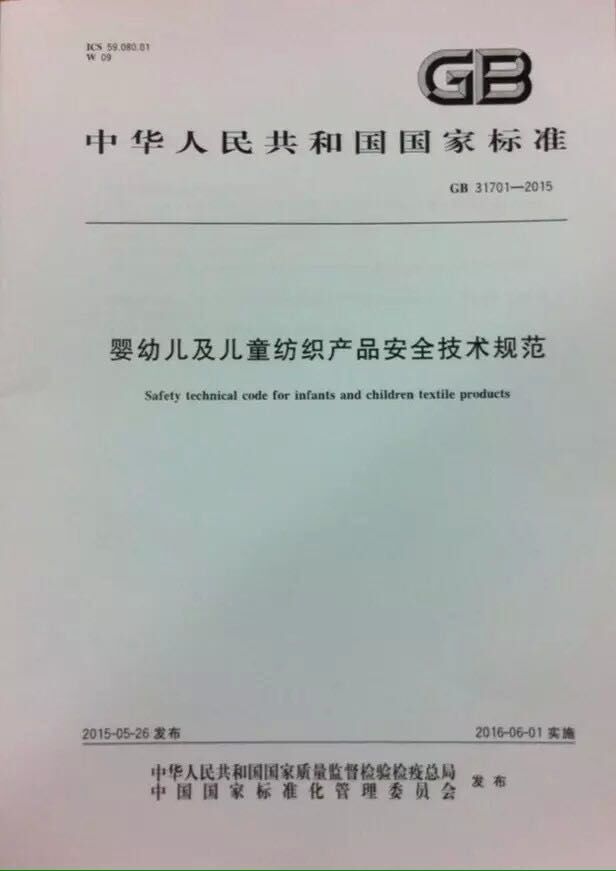 Due to particularity of infants and children, the standard further improves all safety requirements on infants and children textile products based on previous safety standards. The updates of such safety requirements can be summarized as the following:
Requirements on chemical safety: limit requirements are included on 6 plasticizers and 2 heavy metals (lead and cadmium).
Mechanical safety:
Specific stipulations on cords and drawstrings used in the different areas such as neck, shoulders and waist are made (no cord is allowed in the neck area of clothes for infants and children that below 7 years old).
Stipulations on attached components are made for certain tensile strength but no sharp points or edges.
Requirement on combustibility is added.
The standard divides children's wear into two categories according to ages: textile products for infants that applicable to those no more than 36 months, textile products for children that applicable to those between 3 and 14 years old.
It also classifies children's wear into Category A, B and C, among which Category A is the best and then follows B and C (which only meets basic requirements) as per different requirements on safety. Besides, infants and children textile products are required to comply with requirements of Category A, children textile products with direct contact to skin shall at least meet requirements of Category B and those without direct contact to skin shall at least meet requirements of Category C. In the meantime, safety category shall be indicated during the application of children's wear and "infants products" shall be specified on textile products for infants, which provides a reference for consumers when choosing children's wear.
However, a two-year transitional period for implementation is set up for steadiness of the market, starting from 1 June 2016 to 31 May 2018. During the period, products that manufactured before 1 June 2016 and conforming to related standards are allowed to be sold on the market, while test agencies shall conduct tests according to implementation standards of enterprises. All products on the market shall comply with requirements of the standard after 1 June 2018.
It is notable that GB refers to mandatory standards in China. So C&K Testing reminds oversea clients who want to export their products to China that products testing shall be completed for confirmation before customs passage so as to avoid economic loss caused by such failure.
As a professional testing provider in China, C&K Testing is familiar with GB standards and accredited with relevant testing qualifications. Please contact us for quotation or consultation on testing in case of any question.
Contact Us
C&K Testing

Laura Ho

Address:1/F, No,4 Building, Huaye Hi-Tech Industrial Park, No.1180, Bin'an Road, Binjiang District, Hangzhou, Zhejiang, China

Tel: +86-571 8190 7016 | Fax: +86-571 8990 0719

Email:

hl@cirs-group.com