Testing Services

As people become increasingly concerned about the impact of the use of chemicals on human health and environment, green regulations such as EU REACH and RoHS are implemented to manage and monitor the hazardous chemicals in various articles(toys, textiles, electronics, furniture, tyres, etc.)
Either you are a manufacturer of articles or an importer/exporter of articles, you have to make sure your products meet the the safety requirements of your destination country.
CIRS's consumer products testing laboratory offers comprehensive, strict and reliable hazardous substances testing services in compliance with the widest range of product safety standards and requirements in the world, including standards in EU, US, Germany, China and other countries or regions. Our widely recognized compliance reports, certificates and test reports conform to the strict requirements of each individual country and can serve as valid documents for customs clearance and exchange settlement.
Our experienced and well trained staff are dedicated to providing the most reliable and timely results possible. Quality service is at the core of our philosophy. We also believe in helping our clients achieve a competitive advantage in their businesses by enabling them to meet the ever increasing requirements of their marketplace.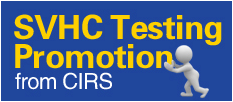 Industry Sector
CIRS on Youtube