Electronics and Electrical

CIRS is committed to the analysis and testing of hazardous substances in electrical and electronic equipment in compliance with various relevant global directives on electrical, electronic, communications devices, cables and cords, and packaging materials. CIRS offers professional technical support and one-stop tailored services to help enterprises deal with international technical barriers to trade and ensure product safety.
We provide one-stop testing services for electronics and electrical industry:
Global RoHS Directive
RoHS Directive covers a wide range of products, including not only integrated electrical and electronic products but also individual parts, raw materials and packing cases, thus impacting the whole production chain. Since the European Union RoHS directive came into force, many countries have formulated their own national RoHS regulations or directives in succession. Read more..
REACH SVHC and REACH Restricted Substances
REACH is the Regulation (EC) No 1907/2006 of the European Parliament and of the Council of 18 December 2006 concerning the Registration, Evaluation, Authorization and Restriction of Chemicals. It came into force on 1 June 2007. The purpose of this regulation is to protect human health and the environment. The enforcement of REACH has a great impact on the electrical and electronic industry.
To comply with REACH, manufacturers or suppliers of electrical and electronic products shall identify and control hazardous substances in their products, especially substances of very high concern (SVHC) and REACH restricted substances.
Substances of Very High Concern (SVHC)
Substances that are one of the following can be regarded as substances of very high concern (SVHC).
carcinogenic, mutagenic or toxic to reproduction (CMRs);
persistent, bio-accumulative and toxic (PBTs);
very persistent and bio-accumulative (vPvBs);
seriously and / or irreversibly damaging to the environment or human health and substances that are damaging to the hormone system;
Currently there are 38 substances on SVHC candidate list published by ECHA. This list will be regularly updated as member states suggest more substances for inclusion.

Electrical and electronic products belong to the "articles" category under REACH regulation. Suppliers of articles must fulfill the following obligations when a SVHC is present:
Communication Requirement: Suppliers of articles which contain substances on the Candidate List in a concentration above 0.1% (w/w) have to provide sufficient information (such as SDS, substance declaration) to allow safe use of the article to their customers or upon request, to a consumer within 45 days of the receipt of the request. This information must contain as a minimum the name of the substance.
Notification: EU producers or importers of articles have to notify ECHA if their article contains a substance on the Candidate List. This obligation applies if the substance is present in those articles in quantities totaling over one tonne per producer or importer per year and if the substance is present in those articles above a concentration of 0.1% (w/w).
REACH Restricted Substances
Section 8 of REACH details the restriction on certain dangerous substances, and preparations or articles which are manufactured, used and placed on the market. Any substance which is used as a substance or in preparations shall be restricted in EU, as long as the use of substance poses an unacceptable risk to human health or the environment.
Currently there are more than 10,000 substances and 59 categories on the REACH restriction list (Annex XVII). The typical restricted substances relevant to electrical and electronic industry include Tetrabromobisphenol A, Phthalates, Bisphenol A, As, Ga and carbon black, etc.
PoHS
Norwegian PoHS (Prohibition on Certain Hazardous Substances in Consumer Products) became effective on Jan 1st, 2008. The PoHS and EU RoHS Directive are similar and concern consumer products. Although the legislation applies only to Norway, PoHS standards could be potentially used for electrical and electronic products exported to EU, as very few companies will produce the same product tailored to a separate market. There are 18 hazardous substances in this regulation. Read more..
Other Hazardous Substances
| | |
| --- | --- |
| Substance Name | Materials with potential chemical risks |
| Halogen | PVC panel, plastics, plastic cement, printing ink, product additives, plasticizing agent, etc. |
| Phthalates | Plastics, plastic cement, lubricating oil |
| Tetrabromobisphenol A | PCB panel, plastic cement, plastics, ABS panel, rubber, resin, textiles, fibers, paper, etc. |
| PAHs | Rubber, tire, oil paint, plastics and other non-metal materials |
| Polychlorinated Biphenyls (PCB) | As cooling agents used for transformers and as insulating oil used for condenser, etc. |
| Polychlorinated Naphthalene(PCN) | Electric wires, timber, mechanic lubricating oil, galvanized decoration compounds, condenser manufacturing, testing oil, raw materials for dye products, etc. |
| Short chain paraffin chloride | Glass, cable materials, plasticizing agent, lubricating oil, oil paint additives, industry flame retardants, decoagulant, etc. |
| Organic tin compounds | Antifoulant, deodorant for textiles, antimicrobial agent, wood preservative, polymer materials such as intermediates in PVC composition stabilizer, etc. |
| Ozone Depleting Substances(CFC/HCFC/Halon) | Cooling agent for refrigerator and air-conditioner, aerosol products, etc. |
| Azo compounds | Textiles, plastics, printing ink, oil paint, coating, ink, varnish, adhesive, etc. |
| Formaldehyde | Textiles, resin, fibers, pigments, dyes, woodwork, paperwork, etc. |
| Asbestos | Construction materials and oil paint filler, heat insulating fillings, electric wire insulation, filter fillings, fire protection suit, asbestos gloves, experiment headscarf and asbestos mat, etc. |
About Us
Chemical Inspection and Regulation Service(CIRS) is a leading provider of toxic and hazardous substances testing and chemical regulatory consulting services with a strong focus on chemical compliance.
CIRS's testing lab located in mainland China has acquired the qualifications of China National Accreditation Service for Conformity Assessment (CNAS) and CMA and follows the ISO/IEC 17025.
Contact
Chemical Inspection and Regulation Service Ltd
Unit 1 Ardee Business Park, Hale Street, Ardee, Co. Louth, Ireland
Tel: +353 41 9806 916 | Fax: +353 41 9806 999
Email:service@cirs-reach.com | http://www.cirs-reach.com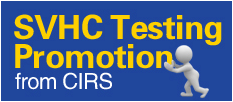 Related Services
Downloads