Toy Safety

As "children's most intimate friends", toys are quite important to children's intellectual development and physical growth. However, toys with potential safety hazards could cause injuries or health problems to children. Therefore, many countries and regions have implemented strict safety standards for those products.
CIRS's consumer products testing laboratory offers comprehensive, strict and reliable toy testing services in compliance with the widest range of toy safety standards and requirements in the world, including standards in EU, US, Germany, China, Australia, Canada, Japan, New Zealand and other countries or regions, as well as the corporate standards of several leading firms in the industry. Our widely recognized compliance reports, certificates and test reports conform to the strict requirements of each individual country and can serve as valid documents for customs clearance and exchange settlement.
| | |
| --- | --- |
| Country/Region | Testing Criteria |
| UN | ISO 8124 |
| China | (GB 19865) ;GB 6675 |
| EU | EN 71, EN 62115 |
| USA | CPSC, ASTM F963 |
| Germany | (DIN EN 71);(DIN EN 62115) |
| Canada | Hazardous (Toys) Products Act |
| Japan | ST 2002 |
| Australia | AS/NZS ISO 8124 |
| New Zealand | (NZS 5822);(AS/NZS ISO 8124) |
We provide one-stop testing solutions for toy industry (products affected include plush toys, digital toys, electronic toys, ride-on toys, plastic toys, woodwork toys, intelligence toys, imitated toys, collectibles, stationery, headgear, and jewelry, etc.).
Soluble Heavy Metals
Heavy metals are commonly found in the raw materials of toys, children's jewelry and gifts. As they accumulate in the human body, they pose severe danger to human health. The international community has issued a series of safety standards to restrict and control the use of heavy metals in toys.
Phthalates
Phthalates are a group of plasticizer agents with softening and elastic effects which are widely used in hundreds of types of products such as toys, food packaging materials, building materials, medical equipments, cosmetics, shoes, and apparels, etc. Phthalates pose great risk to children's health if the concentration exceeds allowable limits. 6 kinds of phthalates are commonly prohibited or restricted in children's products. Read more..
Bisphenol A(BPA)
2,2-bis-(4-hydroxyphenyl) propane, or BPA in short. The substance is mainly used as one important raw material for the synthesis of epoxy resin, polycarbonate, polysulfone, aromatic polyester, phenolic resin, unsaturated polyester resin and flame retardant, etc. In addition, it is occasionally used in rubber aging inhibitor. Many countries have banned BPA in consumer products or baby products. Read more..
PAHs
Polycyclic aromatic hydrocarbons (PAHs) are a group of over 100 different chemicals that are formed during the incomplete burning of coal, oil and gas, garbage, or other organic compounds. PAHs are known for their carcinogenic, mutagenic and teratogenic properties. Read more..
The EU New Toys Directive - Directive 2009/48/EC
On May 11, 2009, European Union adopted the new toys directive, 2009/48/EC, which will come into force in member states after July 20, 2011. Compared with the current directive 88/378/EC, new 2009/48/EC has undergone substantial revisions in the aspects of chemical safety, physical mechanics, electric performance, sanitary safety and label requirement, etc.
The major changes are listed as below:
The categories of restricted elements of migration addressed has increased from 8 to 19;
The uses of 66 sensitive fragrances in toys are restricted for the first time. 55 are strictly prohibited and 11 require labeling if the concentration exceeds 0.01%w/w;

The new directive explicitly specifies that toys should not contain any carcinogenic, mutagenic substance or substances  toxic to reproduction (CMR);

EN 71-3: EN 71-3 sets the highest limits of migrated elements (e.g. antimony, arsenic, barium, cadmium, chromium, lead, mercury and tin) in accessible materials or parts of toys. Migrated elements refer to the extracted solutes out of toy materials after a continuous contact with gastric acid;
EN 71-9: EN71-9 specifies the basic requirements for organic compounds in toys(see our brochure).
AZO Dyes - Directive 2002/61/EC
The AZO Colorants Directive 2002/61/EC specifies that azo dyes(now on REACH Restricted Substances List) which may release one or more of the 22 aromatic amines in detectable concentrations, above 30 ppm in the finished articles or in the dyed components may not be used in textile and leather articles which may come into direct and prolonged contact with the human skin or oral cavity. Read more..
Dimethyl Fumarate(DMF) - Directive 2009/251/EC
 As of 1 May 2009, the amount of DMF contained in product or product components shall not exceed 0.1mg/kg(0.1ppm); Desiccant and fungicide pouches containing DMF are banned in products and packaging on the EU market. Read more..
Formaldehyde
EN71-9 sets the limit of formaldehyde in toys. Different limits apply to different materials.
Nickel Release - Directive 2004/96/EC
Nickel and its compounds may pierce the skin and the nickel migration may induce risk to human health. Therefore, all articles that may have contact with skin are forbidden to plate nickel, including dress accessories such as buttons and slide fastener. This Directive was issued on 27 September 2004 and implemented from 1 September 2005. Read more..
PFOS - Directive 2006/122/EC
For textiles or other coated materials, if the amount of PFOS is equal to or higher than 1 μg/m2 of the coated material, it may not be placed on the market. This Directive entered into force from 27 June 2008. Read more..
REACH SVHC and REACH Restricted Substances
REACH is the Regulation (EC) No 1907/2006 of the European Parliament and of the Council of 18 December 2006 concerning the Registration, Evaluation, Authorization and Restriction of Chemicals. It came into force on 1 June 2007. The purpose of this regulation is to protect human health and the environment. The enforcement of REACH has a great impact on the textile and leather industry.
Toys belong to articles under REACH regulation. Those products might contain Substances of Very High Concern (SVHC) and REACH restricted substances regulated by REACH regulation. Suppliers (manufacturers, importers or retailers) shall first identify all possible toxic chemicals in their products. If the products do not contain SVHC and REACH restricted substances above the threshold limits of REACH, the products are compliant with REACH.
If products do contain any SVHC and restricted substances above the threshold limits, suppliers eed to identify which list the hazardous substances belong to (SVHC candidate list or REACH restriction list or Authorization list) and adopt the following measures to achieve REACH compliance:
It is recommended that suppliers get their goods certified and keep all records. The most reliable way to identify those hazardous substances is through laboratory testing.
CIRS can carry out an assessment for you or your suppliers, in accordance with your specific industry to choose which items need to be tested, thus improving the efficiency of your testing strategy and saving money on unnecessary testing. Finally, we can supply you with a series of tailor-made 'Assessment Reports ' to meet your various requirements.
We provide one-stop REACH compliance solutions for article suppliers and importers. CIRS's certified lab in China provides full range of hazardous substances testing services. We also provide consultancy services such as SVHC notification and application for authorization. Please don't hesitate to contact us or recommend us to your suppliers if you need our assistance.
Other Relevant Toy Tests
RoHS (for electronic toys);
PoHS ;
Physical tests: physical mechanic performance, combustion performance, washing performance, safety test of electronic toys, and cleanliness test of plush toys;
Microbial Limit Tests and Preservative Efficacy Tests.
About Us
Chemical Inspection and Regulation Service(CIRS) is a leading provider of toxic and hazardous substances testing and chemical regulatory consulting services with a strong focus on chemical compliance.
CIRS's testing lab located in mainland China has acquired the qualifications of China National Accreditation Service for Conformity Assessment (CNAS) and CMA and follows the ISO/IEC 17025.
Contact
Chemical Inspection and Regulation Service Ltd
Unit 1 Ardee Business Park, Hale Street, Ardee, Co. Louth, Ireland
Tel: +353 41 9806 916 | Fax: +353 41 9806 999
Email:service@cirs-reach.com | http://www.cirs-reach.com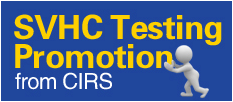 Related Services
Downloads