Textile and Leather Testing

With the improvement of people's living standard, consumers are becoming increasingly keen on green, non-toxic and environmentally friendly consumer goods. This trend for green consumerism has been extended to textile and apparel products that may come into direct and prolonged contact with the human skin or oral cavity, such as clothing, bedding, towels, wigs, hats, nappies and other sanitary products, footwear, gloves, wristwatch straps, leather belts, purses, wallets, briefcases, chair covers and toys, etc. Since the global demand for safe and green garments is increasing, manufacturers shall improve product standards to meet those growing demands.
Focusing on chemical compliance, CIRS provides one-stop testing solutions to textile and leather industry to ensure product safety and product compliance.
We provide the following testing services for textile and leather industry:
AZO Dyes - Directive 2002/61/EC
The AZO Colorants Directive 2002/61/EC specifies that azo dyes(now on REACH Restricted Substances List) which may release one or more of the 22 aromatic amines in detectable concentrations, above 30 ppm in the finished articles or in the dyed components may not be used in textile and leather articles which may come into direct and prolonged contact with the human skin or oral cavity. Read more..
Pentachlorophenol (PCP)- Directive 94/783/EC
Due to its toxicity to the aquatic environment, pentachlorophenol (PCP) is banned in textile products worldwide.
Allergenic Disperse Dyes and Carcinogenic Dyes
Allergenic disperse dyes (around 19 substances) and carcinogenic dyes(around 10 substances) are banned in textile materials from synthetic fibres with skin contact.
Nickel Release - Directive 2004/96/EC
Nickel and its compounds may pierce the skin and the nickel migration may induce risk to human health. Therefore, all articles that may have contact with skin are forbidden to plate nickel, including dress accessories such as buttons and slide fastener. This Directive was issued on 27 September 2004 and implemented from 1 September 2005. Read more..
PFOS - Directive 2006/122/EC
For textiles or other coated materials, if the amount of PFOS is equal to or higher than 1 μg/m2 of the coated material, it may not be placed on the market. This Directive entered into force from 27 June 2008. Read more..
Dimethyl Fumarate(DMF) - Directive 2009/251/EC
 As of 1 May 2009, the amount of DMF contained in product or product components shall not exceed 0.1mg/kg(0.1ppm); Desiccant and fungicide pouches containing DMF are banned in products and packaging on the EU market. Read more..
TBT & DBT - Directive 2009/425/EC
In the textile industry, organotin compound have been used for preventing the bacterial degradation of sweat and the corresponding unpleasant odour of socks, shoes and sport clothes. Dioctyltin (DOT) compounds shall not be used after 1 January 2012 in articles for supply to, or use by, the general public, where the concentration in the article or part thereof, is greater than the equivalent of 0.1% by weight of tin.
REACH SVHC and REACH Restricted Substances
REACH is the Regulation (EC) No 1907/2006 of the European Parliament and of the Council of 18 December 2006 concerning the Registration, Evaluation, Authorization and Restriction of Chemicals. It came into force on 1 June 2007. The purpose of this regulation is to protect human health and the environment. The enforcement of REACH has a great impact on the textile and leather industry.
Textile and leather products belong to articles under REACH regulation. Those products might contain Substances of Very High Concern (SVHC) and REACH restricted substances regulated by REACH regulation. Suppliers (manufacturers, importers or retailers) shall first identify all possible toxic chemicals in their products. If the products do not contain SVHC and REACH restricted substances above the threshold limits of REACH, the products are compliant with REACH.
If products do contain any SVHC and restricted substances above the threshold limits, suppliers eed to identify which list the hazardous substances belong to (SVHC candidate list or REACH restriction list or Authorization list) and adopt the following measures to achieve REACH compliance:
It is recommended that suppliers get their goods certified and keep all records. The most reliable way to identify those hazardous substances is through laboratory testing.
CIRS can carry out an assessment for you or your suppliers, in accordance with your specific industry to choose which items need to be tested, thus improving the efficiency of your testing strategy and saving money on unnecessary testing. Finally, we can supply you with a series of tailor-made 'Assessment Reports ' to meet your various requirements.
We provide one-stop REACH compliance solutions for article suppliers and importers. CIRS's certified lab in China provides full range of hazardous substances testing services. We also provide consultancy services such as SVHC notification and application for authorization. Please don't hesitate to contact us or recommend us to your suppliers if you need our assistance.
Other Relevant Textile Tests
Formaldehyde;
Short-chain chlorinated paraffines;
Nonylphenol Etoxylates (NPEO);
Extractable heavy metals such as Sb, As, Pb, Cd, Hg, Cu, Cr, Cr(VI), Co, Ni;
Pesticides & herbicides residues;
Flame Retardants such as polybrominated biphenyls (PEE) and polybrominated diphenylether (PBDE);

Color fastness test, dimensional stability test, garment accessories test and fire test for flame propagation.
About Us
Chemical Inspection and Regulation Service(CIRS) is a leading provider of toxic and hazardous substances testing and chemical regulatory consulting services with a strong focus on chemical compliance.
CIRS's testing lab located in mainland China has acquired the qualifications of China National Accreditation Service for Conformity Assessment (CNAS) and CMA and follows the ISO/IEC 17025.
Contact
CIRS Europe
Unit 1 Ardee Business Park, Hale Street, Ardee, Co. Louth, Ireland
Tel: +353 41 9806 916 | Fax: +353 41 9806 999
Email:service@cirs-reach.com | http://www.cirs-reach.com
CIRS China
1288 Chunbo Road, Binjiang District, Hangzhou City, China
Tel: +86 571 8720 6555 | Fax: +86 571 8720 6533
Email: service@cirs-reach.com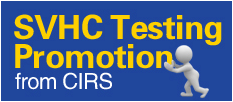 Related Services
Downloads