24h Emergency Telephone Number Service for SDSs and Labels in China
According to 4.2.7 of China's mandatory national labeling standard for chemicals (GB 15258-2009) – "General rules for preparation of precautionary label for chemicals" that came into force on 1 May 2010, there shall be at least one 24-hour emergency phone number on the precautionary label of any imported chemical and this number must be located in China.
In general, the information in a SDS needs to be consistent with the information on a label and thus a 24h emergency number might also be required for SDS. In addition to that, when manufacturers and importers of hazardous chemicals register their chemicals with the National Registration Centre of Chemicals(NRCC), they must provide a domestic 24h emergency telephone number for chemical accidents.
CIRS is the authorized agent for NRCC's 24h emergency telephone number service for Chinese SDSs and labels. More info about our service procedure and cost can be found here.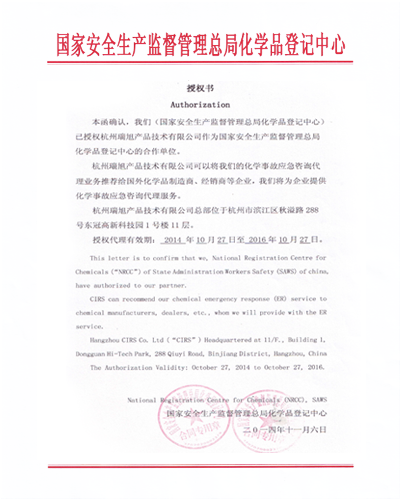 About NRCC
The National Registration Center for Chemicals of the State Administration of Work Safety was established in 1997 and located in the scenic coastal city – Qingdao. As a public institution directly affiliated to the State Administration of Work Safety, it is a comprehensive technical support agency in safety administration of dangerous chemicals in China.  
The Chemical Registration Center mainly performs a wide range of tasks, such as hazardous chemical registration, hazard identification and classification of chemical, emergency rescue of chemical accidents, safety standardization for enterprises engaged in hazardous chemicals, draft and revision of regulations and standards on safety management of chemicals, and subject researches on chemical safety management, monitoring of the major sources of danger, emergency rescue, prevention and control of occupational hazards, as well as relevant assessment, technical development, training and consulting services. 
About CIRS
Initially set up by China Inspection and Quarantine(CIQ) Bureau in 2007 to provide REACH compliance services to Chinese chemical industry, CIRS has grown to be a leading provider of comprehensive chemical compliance services for companies doing businesses in/with China.
Our services cover new substance notification, registration of the import and export of toxic chemicals, registration of hazardous chemicals, classification and labeling in according to China GHS, Chinese SDS, risk assessment of industrial chemicals, food additives and cosmetic ingredients. We provide one-stop solutions to your regulatory issues in China. We also deliver the most up-to-date regulatory information about chemical control laws in China.
Contact
Mr. Eric Xiong, China Office

11F Building 1, Dongguan Hi-Tech Park, 1288 Chunbo Road, Binjiang District, Hangzhou 310052, China

Tel: +86-571 8720 6555 | Fax: +86-571 8720 6533

Email: 

eric.xiong@cirs-reach.com