Decree 591 - Regulations on Safe Management of Hazardous Chemicals in China
Regulations on the Safe Management of Hazardous Chemicals in China
Decree 591 of the State Council of China
The Regulations on the Safe Management of Hazardous Chemicals revised and approved by the State Council at its 144th executive meeting on 16 February 2011 is hereby promulgated and shall be implemented as of 1 December 2011.
Table of Contents
Chapter 1: General Provisions
Chapter 2: Safety Management of Manufacture and Storage
Chapter 3: Safety Management of Use
Chapter 4: Safety Management of Operation and Marketing
Chapter 5: Safety Management of Transportation
Chapter 6: Registration of Hazardous Chemicals and Emergency Response
Chapter 7: Legal Liabilities
Chapter 8: Supplementary Provisions
Copyright and Disclaimer:
The English version of the the Regulations on Safe Management of Hazardous Chemicals in China (2011) is translated by Ms Lilian Liu, Ms Queenier Yang, Ms Ruby Gao, Dr Janey Cheung and Dr Michael Chang from CIRS R&D Centre and reviewed by Mr Yunbo Shi and Mr Morgan Prendeville.
The translation is available to the public for free and it is for reference only. Please feel free to use our translation on your website by indicating the source or putting a link to this page. For more information about how to comply with the Regulations, please click here.
Article 1
This regulation has been promulgated to strengthen the safe management of hazardous chemicals, and to prevent and decrease accidents involving hazardous chemicals, whilst also guaranteeing the safety of people's life and property, and to protect the environment.
Article 2
The regulation applies to the manufacture, storage, usage, operation and marketing of hazardous chemicals. Disposal of hazardous chemical waste should be carried out in compliance with relevant environmental protection laws, administrative regulations and other state provisions.
Article 3
Hazardous chemicals refer to highly toxic substances and other chemicals which are toxic, corrosive, explosive, flammable or are combustion-supporting and can do harm to people, facilities or the environment.
The Catalogue of Hazardous Chemicals should be determined, promulgated and properly adjusted in accordance with the hazard identification and classification by the State Administration of Work Safety in consultations with the Ministry of Industry and Information Technology, the public security authorities, the Ministry of Environmental Protection, the Ministry of Health, the quality supervision, inspection and quarantine department, the transport department, the railway department, the civil aviation department and the agricultural department under the State Council.
Article 4
Safe management of hazardous chemicals should abide by the policy of safety first, precaution mainly and comprehensive management, to strengthen and implement the main responsibility of enterprises.
The person chiefly in charge of the enterprises which manufacture, store, use, deal with and transport hazardous chemicals (hereinafter referred as the units of hazardous chemicals) shall be responsible for the safe management of such hazardous chemicals.
Units of hazardous chemicals should meet the safety requirements of laws, administrative regulation, national and industrial criterions, establish safety management rules, educate the employees on safety and legal systems as well as provide technical training. Employees shall be educated and trained. Only the qualified person after examination should be permitted to work; For the jobs requiring qualifications, only the staff with relevant qualification can perform such work.
Article 5
Any units and personnel are not allowed to manufacture, operate or market, and use the hazardous chemicals, whose production, operation, and usage are banned by the State.
Any units and personnel should not use the hazardous chemicals by breaking the restrictive provisions set up by the State.
Click here to download the full text of the regulation[pdf, 491KB].
New! The Measures for the Administration of Registration of Hazardous Chemicals (2012) is published on 1 June 2012 and will now enter into force on 1 August 2012. This regulation is now available in English for free. Please contact eric.xiong@cirs-reach.com to request a free copy.
Our Services and About Us
Free regulatory advice;

New!

Free chemical inventory search service;

IECSC 2010;
Catalog of Hazardous Chemicals;
Catalog of Highly Toxic Chemicals;
Prohibited Chemicals(2005);
List of Toxic Chemicals Restricted to Be Imported/Exported;

Chinese SDS and chemical safety label;
Safety evaluation report;
Application of operating license;
Registration of hazardous chemicals;
Advice on the transportation of dangerous goods.
We offer one-stop solutions to your chemical compliance in China and our services include new substance notification, registration of the import and export of toxic chemicals, and classification and labelling in according to China GHS and the Chinese SDS. We also deliver the most up-to-date regulatory information about chemical control laws in China.
Contact Us
CIRS Europe
Unit 1 Ardee Business Park, Hale Street, Ardee, Co. Louth, Ireland
Tel : +353 41 9806 916 | Fax : +353 41 9806 999
Email: service@cirs-reach.com
Mr. Eric Xiong, China Office

11F Building 1, Dongguan Hi-Tech Park, 1288 Chunbo Road, Binjiang District, Hangzhou 310052, China

Tel: +86-571 8720 6555 | Fax: +86-571 8720 6533

Email: 

eric.xiong@cirs-reach.com
Latest Event

Watch Webinar on Youtube
Latest Events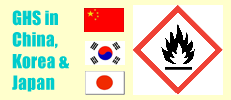 Related Services