An Introduction to PICCS and New Substance Notification (PMPIN) in Philippines
In Philippines, new chemical substances are those chemicals that are not included in the PICCS. As a policy, they cannot be manufactured, imported, distributed or used unless they have undergone the Pre-Manufacture and Pre-Importation Notification (PMPIN) process. To help companies better understand the PMPIN process for new substances, CIRS would like to invite you to join our free webinar regarding the new substance notification in Philippines.
------------------------------------------------------------------------------
This webinar was successfully held on 18 Feb 2014. More than 230 attendees have registered for the webinar and around 95 companies have attended the webinar including many big chemical companies such as Shell, BP, Dow, DuPont, AkzoNobel, Solvay, Eastman, Honeywell, Henkel, Dow Corning. If you are interested in obtaining a copy of this presentation free charge, please clickhere.
------------------------------------------------------------------------------
Topics Covered
An introduction to PICCS and PMPIN in Philippines;
How to notify new chemical substances in Philippines;
The minimum data requirements and application materials;
The potential cost and duration of notification;
Specific requirements for small quantity importation;
Time and Schedule
Time: 18 February 2014, Tuesday, 4:15PM to 5PM (GMT+8);
Presentation: An introduction to new substance notification in Philippines(PMPIN);
Presenter: Ms Cloris Pan, Senior Chemical Regulatory Consultant;
Registration: Free of charge;
Language: English
About the Presenter
Ms. Cloris Pan is a senior chemical regulatory consultant focusing on GHS and chemical notifications for Asia pacific region at CIRS. With plenty of practical experience with AP chemical regulatory compliance, she will help you navigate through the complex new substance notification process in Philippines.
Cloris graduated from University of Sheffield with a master's degree in polymer science. She also holds a bachelor degree from Tsinghua University in Beijing.
How to Register
Please click the following picture and register for yourself.


After registration, you will receive a link one day and one hour before the webinar starts. By clicking that link, you shall be able to join our webinar automatically.
Note: To attend this seminar, there is no need to call dial-in telephone number to access audio. If you cannot join the webinar, you can also request a copy of presentation from us for free.
To follow more events, free regulatory updates and publications from CIRS, please subscribe our monthly newsletter: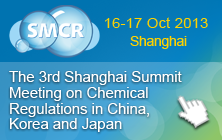 More info