CIRS Announces Strategic Collaboration with 3E Company
22 June 2013, CIRS announced a strategic collaboration with 3E Company, a leading provider of environmental health and safety (EH&S) compliance and information management services. The alliance aims to offer Chinese companies streamlined and expanded access to the chemical, regulatory, and compliance information services offered by 3E Company.

Under the terms of the agreement, CIRS will represent 3E Company within the People's Republic of China and promote the Ariel WebInsight(TM) online chemical regulatory compliance reference tool and the 3E Online(R) safety data sheet (SDS) management platform in China in an effort to offer integrated solutions to its customers and enhance product stewardship and workplace safety initiatives.

CIRS will also use the MSDgen(R) SDS authoring system to support its new SDS and label authoring services for the Asia Pacific region. The CIRS team of experts will author these critical documents using MSDgen to ensure that they are prepared in the official language of the destination region/country. The team will also ensure that the documents reflect the latest regulatory requirements on format, unique classification rules, ingredient disclosure, and regulatory information in each country/region in which the customer company conducts business. 

"3E has been committed to establishing a strong presence and positive role in China over the last several years," said Robert S. Christie, CEO and president, 3E Company. "We've noted increasing demand for comprehensive and reliable platforms, services, data, and expertise to support chemical regulatory safety and compliance. We're delighted to work with CIRS to help meet this demand while also helping companies achieve their global compliance goals. We look forward to broadening our collaboration with CIRS in the future and expanding their access to 3E's services and solutions."

"We are excited about this win-win alliance. In collaborating with 3E, we'll have access to 3E's powerful EH&S solutions to better help Chinese companies comply with global and local EH&S regulations," said Yan Lee, general manager, CIRS.

3E Online-SDS facilitates compliance for today's global enterprise by streamlining the management of multilingual SDSs and improving conformance with regulations such as Europe's Registration, Evaluation, Authorisation and Restriction of Chemicals (REACH) regulatory framework and the United Nation's Globally Harmonized System of Classification and Labelling of Chemicals (GHS). Ariel WebInsight also features support for emerging and existing regulations, providing subscribers with accurate, comprehensive, up-to-date, and usable regulatory content to enhance overall product and facility compliance. 
About CIRS

Chemical Inspection and Regulation Service (CIRS) is an independent firm providing professional chemical regulatory consulting, certification and testing services to a variety of industries such as the chemical industry, consumer product industry, scientific research institutions and industry associations.

With its headquarter based in Hangzhou of China and offices or laboratories located in Ireland, Nanjing, Ningbo and Wenzhou, CIRS utilizes its technical expertise, various resources and global network to provide comprehensive compliance services such as chemical notification, GHS compliance services, pesticides and biocides registration, cosmetics and new cosmetic ingredient registration, chemical testing, regulatory update monitoring and training services. For more info about CIRS, please visit http://www.cirs-reach.com

About 3E Company

3E Company, a subsidiary of Verisk Analytics (Nasdaq:VRSK), offers a comprehensive suite of data and solutions for environmental health and safety (EH&S) compliance management. This solutions suite addresses the entire chemical life cycle and includes regulatory research; MSDS authoring, distribution, and management; transportation; emergency response; training; regulatory reporting; and hazardous waste management. 3E provides an industry-leading combination of a 24/7/365 EH&S mission-control call center and the world's premier hazardous substance database of global regulatory and compliance information. The company was founded in 1988 and is headquartered in Carlsbad, California, with additional operations in Canton, Ohio; Bethesda, Maryland; Kingsport, Tennessee; Montreal, Quebec; and Copenhagen, Denmark. For more information on 3E Company, visit http://www.3ecompany.com .

To follow more events, free regulatory updates and publications from CIRS, please subscribe our monthly newsletter: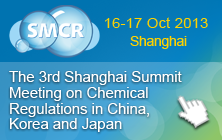 More info