CFDA to Make Significant Amendments of New Cosmetic Ingredient Registration Management Rules
24 Jan 2014, CFDA has published a notice to invite public comments on the amendment of new cosmetic ingredient registration management rules. The notice does not get rid of new cosmetic ingredient registrations or reduce the difficulty of getting a new cosmetic ingredient (NCI) approved in China. However, it does offer some good news for new cosmetic registrants: a protection period up to 4 years.
The main changes are listed as follows:
4 Years of Protection Period for New Cosmetic Ingredient Registrants.
In the past, once a new cosmetic ingredient has been approved by CFDA through a public notice, it can be used or sold by every company, which is unfair to the registrant who has made significant efforts to develop a new product and get it approved in China. Under proposed rules, CFDA will not publish any notices on new cosmetic ingredient approvals from 1st April 2014. Only companies that have registered a new cosmetic ingredient and have obtained a "new cosmetic ingredient trial use certificate" (valid for 4 years) are allowed to produce, sell or use it. During the 4 years, other companies who intend to sell or use the same cosmetic ingredient need to do their own registrations
After 4 years, CFDA will re-evaluate the safety of the ingredient based on its use. If the result of the evaluation is that the ingredient is safe under its conditions of use, it will be added to the Inventory of Existing Cosmetic Ingredients in China (IECIC).
More Post-registration Obligations on Registrant
The notice also requires registrants to fulfill more post-registration obligations such as establishing a traceability system, monitoring risk info on new cosmetic ingredient and reporting the information on production, circulation, use and safety-related info to food and drug authorities. CFDA may revoke registrant's certificates if registrants fail to meet their post-registration obligations.
CIRS's Comments
A protection period up to 4 years protects the interests of new cosmetic ingredient registrants. This is quite encouraging to the industry.
The notice also mentions that the guidelines on the registration and evaluation of new cosmetic ingredient will be revised. It is too early tell to whether the registration and evaluation process is going to be simplified.
The management of new cosmetic ingredient registration is getting closer to new substance notifications in China now.
Reference
http://www.sda.gov.cn/WS01/CL0781/96377.html
Contact Us
Ms April Guo, CIRS China

Specialized field: application for hygiene License, record-keeping certificate for imported cosmetics, safety evaluation of cosmetics and cosmetic ingredients, standard labelling for cosmetics, SDFA registration, CIQ label, etc.
Ms April Guo, China Office

11F Building 1, Dongguan Hi-Tech Park, 1288 Chunbo Road, Binjiang District, Hangzhou 310052, China

Tel: +86-571 8720 6555 | Fax: +86-571 8720 6533

Email: 

april.guo@cirs-reach.com
To follow more events, free regulatory updates and publications from CIRS, please subscribe our monthly newsletter: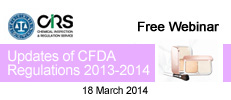 Related Topics