The impact of MoA's notice 1745 to phase out the use of Paraquat in China.
Original Article by David Wan in 2012
Paraquat has been a significant and valuable pesticide product used in the agriculture industry worldwide for over the last fifty year. It was favored by farmers all over the world because it can control weeds widely, enable multi-cropping and is not harmful towards crops.
Currently, the Ministry of Agriculture (MoA) of China, the Ministry of Industry and Information Technology (MIIT) and AQSIQ have published a joint notice 1745 to place restrictive administration measures on the production and use of Paraquat in China.
There will be a new potential market for other herbicides now as Paraquat is restricted and will finally be removed completely from the Chinese market from 1st July 2016. 
Glyphosate has the potential to take a bigger share of the herbicide market.
As a competitor to Paraquat with lower toxicity, Glyphosate may take bigger market share as Paraquat will be restricted and removed during the next 4 year period. This will be a big potential opportunity for the manufacturers and importers of Glyphosate in China. In the meantime, overseas corporations may also consider increasing the export of Glyphosate into China to take advantage of any market gaps.
However, excess production capacity, price competition and Glyphosate resistance will impact the market prospects for Glyphosate. Manufacturers and importers should consider these facts and realize that any potential opportunities are always combined with risks.
The pesticide registration information below from ICAMA may be useful for companies to understand the potential market of herbicide in China.
| Name | TC | Formulation |
| --- | --- | --- |
| Paraquat | 33 | 280 |
| Glyphosate | 149 | 531 |
| Glufosinate-ammonium | 6 | 11 |
The transition period for Paraquat
In accordance with the Notice No. 1745, there is still some room reserved for Paraquat manufacturers, importers and traders. Although it's impossible for companies to apply for a Paraquat registration certificate anymore, they can continue producing this product for the Chinese market until 1st July 2014. Furthermore, if the production is for export only, manufacturers will not be affected by this notice until after 1st July 2016.
The most urgent thing for companies to do now is to update their pesticide registration certificate and product label. With an updated label, a product can be placed on the Chinese market before 1st July 2016.
More detailed transitional timeline is listed in the following table: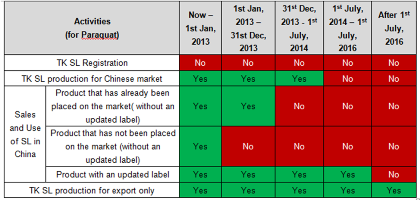 Reference
1 May 2012, China to restrict the production and use of Paraquat
About the author
David Wan graduated from Zhejiang University with Master Degree in life science. He has developed many years of consulting experience in chemical regulatory compliance, particularly in areas such as EU REACH Registration, CLP, China GHS, restricted substance control and now China Pesticide Registration.
Contact
CIRS China
Hangzhou CIRS Co., Ltd. (CIRS China)
11F Building 1, Dongguan Hi-Tech Park, 288 Qiuyi Road, Binjiang District, Hangzhou 310052, China
Tel: +86-571 8720 6555 | Fax: +86-571 8720 6533
Email: Service@cirs-reach.com