Registration of Pesticides & Biocides in China
Original Article by David Wan in Nov 2011
In China, plant protection products and a majority of biocidal products are regulated by China's pesticide management law and administered by the Ministry of Agriculture in China. Some biocidal products such as disinfectants are regulated by the Ministry of Health. This article mainly summarizes how pesticides are regulated in China.
In 2009, the Chinese Ministry of Agriculture (MOA) under the State Council amended the current pesticide management law, the "Regulation on Pesticide Administration (RPA)". The draft regulation for comments was published on July 21, 2011, and the new Regulation shall be issued in 2012. This new Pesticide Regulation will be implemented approximate 6 months later. The biggest challenge now is in the fact that temporary registration will be canceled; and therefore any manufacturers, importers and distributors should/ are required to register their pesticides formally. MOA also made the decision to revise the data requirement of pesticide registration (DRPR) in April 2011(here).
What is New?
24 Oct 2013, CIRS to sponor 2013 annual conference on overseas pesticide registration. More info can be found here.
The presentation about how biocides are regulated in China is available for download, please click here.
Regulation Updates
Compared to current pesticide regulation, the amended 'Regulation on Pesticide Administration' includes the following changes/ differences:
Improves pesticide registration system (Chapter II)

Temporary registration is canceled in the amended regulation; pesticide registration system is more regulated; the data requirement of pesticide registration is more easily understandable. Meanwhile, the amended regulation details the requirements of security and validity assessment. It defines the duration of administrative review, and regulates the formation and obligations of the pesticide registration review committee.

Enhances the management of the quality and safety of pesticide production (Chapter III)

Manufacturers are required to set up systems both for recording raw material imports and for the recording of pesticide products sold. Pesticide production should be in strict accordance with quality standards, to ensure the produced products are consistent with the registered products. The amended regulation identifies the criteria for pesticide packaging and labeling, and also specifies the conditions and relevant recording process for pesticide repackaging and foundry processes.

Regulates the management of pesticide production and operation (Chapter IV)

An authorization system is set up to identify the necessary condition of pesticide operation. The pesticide distributors are required to improve the record system of pesticide trade, including the obligation of illustration regarding use scope, methods, technical requirements and notices. Meanwhile, the foundry, repackaging and addition of substance are forbidden. Pesticide products without packaging and label or with incomplete label are not allowed to be placed on the market.


Enhances the supervision of pesticide safety use (Chapter V)

These organizations, including agriculture sectors, agriculture technical service organizations, pesticide manufacturers and distributors, are required to provide technical assistance, training and guidance for pesticide users.


Defines the responsibilities of pesticide management and supervision authorities(Chapter VI)
Refinement of management and inspection responsibilities of relevant departments; agricultural sectors are required to monitor the registered pesticide. If there are any critical hazardous and /or potential risks on agriculture, forestry, human and animal safety, pesticide product quality safety and environment, agriculture sectors should announce the ban and/or restriction of these pesticide products according to the assessment results provided by assessment committee.
Procedure for China Pesticide Registration
Although China Pesticide Registration is complicated, we have summarized the Pesticide Registration into 5 main steps. This will help you get familiar with the registration procedure in China.
Step 1: Determination of Registration Type
Registrants shall firstly identify appropriate registration type for their pesticides or products. The following chart shows the types of registration for pesticides in China.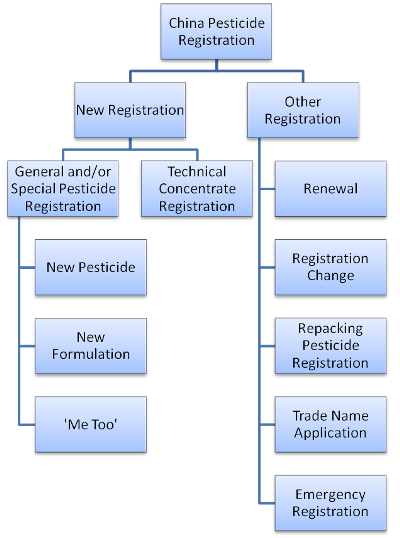 Step 2 Data Gap Analysis
In accordance with pesticide product types(
General chemical pesticide, public health pesticide, rodenticide, biochemical pesticide, microbial pesticide, botanical pesticide, GMOs, natural enemies)
, registrants shall collect existing data/reports and determine applicability of the existing data. Then registrants shall compare this with the Data Requirements of Pesticide Registration and identify data gaps.
Step 3 Study Monitoring and Generation of Test Reports
Communication with authorized Labs and the performance of necessary studies will ensure that you can collect all essential reports in an effective way.
Please note, field and residue studies must be carried out in China, and the labs should be authorized by the institute for the Control of Agrochemical under Ministry of Agriculture (ICAMA).
Meanwhile, all final test reports should be summarized and translated into Chinese. Final assessment of report applicability for dossier preparation is essential; this is critically important as reports from some laboratories are not accepted by Ministry of Agriculture of China (MOA).
Step 4: Dossier Preparation
Registration dossier shall be prepared according to the Data Requirement of Pesticide Registration. The dossier should include the following items:
Registration application form;
IP declaration;
Study reports, reports summarization and translation;
Product summarization;
Production process;
Product chemical data;
Pesticide label;
Illustration manual;
MSDS;
Business license;
Step 5: Submission of Dossier and Product Defense
When the dossier is completely prepared, registrants should submit the dossier to ICAMA. Meanwhile, registrants should be prepared to defend their submissions against adverse actions proposed by ICAMA in accordance with the Regulation.
Frequently Asked Questions
Q: What's the difference between China Pesticide and EU PPP?

A: The China pesticide regulation is very different to the EU PPP. With regard to legislative scope, China pesticide regulation is wider than EU PPP. For example, it includes the whole content of EU PPP and also involves parts of products types covered by EU Biocide legislation, i.e. Type14 Rodenticides, Type15 Avicides, Type16 Molluscicides and Type19 Repellents and attractants.

Q: Is my product under control of China Pesticide Regulation?
Q: How long will it take to get the China pesticide certificate?
More questions and answers can be found here.
Our Services
We provide free initial consultation regarding your obligations under this legislation. We will provide pre-service assistance with regard to compiling a registration strategy and estimating the registration costs. If registration is required, we can then prepare a detailed registration schedule with cost estimation included, registration strategy analysis, study monitoring, report collection and dossier preparation.

Our expert team have many years experience with pesticide registration in China and we are confident that we can help you register your products in China in a cost-efficient manner. Click the following picture to view our comprehensive pesticide registration services for China.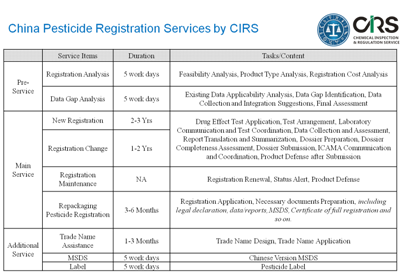 About Us
Initially set up by China Inspection and Quarantine(CIQ) Bureau in 2007 to provide REACH compliance services to Chinese chemical industry, CIRS has grown to be a leading provider of comprehensive chemical compliance services for companies doing businesses in/with China.
Our services cover new substance notification, registration of the import and export of toxic chemicals, registration of hazardous chemicals, classification and labeling in according to China GHS, Chinese SDS, risk assessment of industrial chemicals, pesticides, food additives and cosmetic ingredients. We provide one-stop solutions to your regulatory issues in China. We also deliver the most up-to-date regulatory information about chemical control laws in China.
Mr. David Wan, China Office

11F Building 1, Dongguan Hi-Tech Park, 1288 Chunbo Road, Binjiang District, Hangzhou 310052, China

Tel: +86-571 8720 6555 | Fax: +86-571 8720 6533

Email: 

david@cirs-reach.com

More Info and Downloads