The UN Globally Harmonized System of Classification and Labeling of Chemicals (GHS)
Updated in July 2014
The UN Globally Harmonized System of Classification and Labeling of Chemicals (GHS) is an international system created by the UN to address the classification of chemicals by types of hazard and harmonize hazard communication elements, including labels and safety data sheets. It aims at providing a basis for harmonization of rules and regulations on chemicals at national, regional and worldwide level, an important factor also for trade facilitation. GHS has been introduced to many countries/regions such as Europe, USA, China, Japan and Korea, etc via their own legislation or standards.
UN GHS comprises standards for:
Classification of chemicals based on their hazards;
Labeling requirements;
Safety Data Sheet Requirements;.
UN GHS is updated frequently and the latest version was the 5th revised edition released in 2013. To download the latest version of UN GHS, please click the link below:
http://www.unece.org/trans/danger/publi/ghs/ghs_rev05/05files_e.html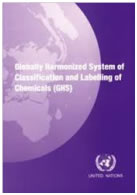 Classification
GHS classifies chemicals based on physical hazards, health hazards and environmental hazards. The latest edition of UN GHS contains criteria for the following classes of hazards:
Physical Hazards

(16 Classes)

Explosives, Flammable Gases, Aerosols, Oxidising Gases, Pressurised Gases, Flammable Liquids, Flammable Solids, Self Reactive Substances, Pyrophoric Liquids, Pyrophoric Solids, Self Heating Substances, Water Reactive, Oxidising Liquids, Oxidising Solids, Organic Peroxides, Corrosive to Metals

Health Hazards

(10 Classes)

Acute Toxicity, Skin Corrosion/Irritation, Serious Eye Damage/Irritation, Respiratory or Skin Sensitisation, Germ Cell Mutagenicity, Carcinogenicity, Reproductive Toxicant, STOT- single exposure, STOT- repeated exposure, Aspiration

Environmental Hazards

(2 Classes)

Hazardous to the Aquatic Environment, Hazardous to the Ozone Layer.
For example, the classification criteria for flammable liquids are listed as follows:
| | | |
| --- | --- | --- |
| Category | Criteria | Assigned Codes & Hazard Statements |
| 1 | Flash point<23℃ and initial boiling point≤35℃ | H224 Flammable Liquid Cate. 1 |
| 2 | Flash point<23℃ and initial boiling point>35℃ | H225 Flammable Liquid Cate. 2 |
| 3 | Flash point ≥ 23℃ and ≤60℃ | H226 Flammable Liquid Cate. 3 |
| 4 | Flash point > 60℃ and ≤93℃ | - Flammable Liquid Cate. 4 |
After a chemical has been classified, standard hazard statements and codes will be assigned to describe the hazards of a hazardous product and the degree of hazard. The hazard statements will then be used in Safety Data Sheet and on the label.
Building Blocks
GHS provides the flexibility to allow countries to adopt the building blocks that they require to meet domestic requirements. There may be differences in categories adopted by different countries. However, the overall information such as label elements (pictograms, signal words, hazard and precautionary statements) are harmonized.
One example is listed as follows:
| | | |
| --- | --- | --- |
| Hazard Class | UN GHS 4 Rev or China | EU CLP or US HCS |
| Acute Toxicity | Category 1-5 | Category 1-4 |
Labelling
A typical GHS label shall contain the following elements at least:
Product identifier;
Supplier identification;
Signal word;
Hazard pictogram (black symbol with a white background and red frame);
Hazard statements;
Precautionary statements;
Other additional information required by different authorities.
A sample UN GHS label is given as below: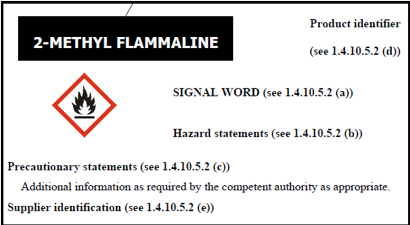 It shall be noted that:
In case of small and awkward packaging, some elements may be omitted.
For inner packaging, only GHS labels are required;
For outer packaging, transport marks and labels are usually required; Some authorities may also require GHS labels if there is no transport label;
For single packaging, transport label and hazard pictogram may appear on the same GHS label; In the event that transport label and GHS hazard pictogram represents the same hazard, GHS hazard pictogram can be omitted.
Safety Data Sheet
Safety Data Sheet is very important hazard communication document to inform its audience of the hazards of a substance or mixture and provide information on the safe storage, handling and disposal of the substance or a mixture. GHS provides guidance on a SDS shall be prepared.
The information in SDSs should be presented in the following 16 headings:
Identification;
Hazard identification;
Composition/information on Ingredients;
First-aid measures;
Fire-fighting measures;
Accidental release measures;
Handling and storage;
Exposure controls/personal protection;
Physical and chemical properties;
Stability and reactivity;
Toxicological information;
Ecological information;
Disposal consideration;
Transport information;
Regulatory information;
Other information.
Usually, a SDS needs to be prepared in the official language of a destination country.
Transitional Period
Different countries have given different transitional periods for substances and mixtures. GHS compliant labels and SDS must be provided when the transition period is over. Some examples are listed as follows:
Countries/Regions

Effective Date

EU

June 1, 2015 (substances and mixtures)

Korea

June 30, 2011 (Single toxic chemical)
June 30, 2013 (Mixtures of toxic chemicals)

South Africa

3 years (2012) for substances
7 years (2016) for mixtures

Vietnam

March 30, 2014 (substances)
March 30, 2016 (mixtures)

Australia

December 31, 2017 (both substances and mixtures)

Singapore

by the end of 2010 (single substances)
by the end of 2012 (mixtures)

Indonesia

March 24, 2010 (substances)
December31, 2016 (mixtures)

Thailand

March 12, 2013 (substances)
March 12, 2017 (mixtures)
About Us
CIRS a leading provider of comprehensive chemical compliance services for companies doing businesses in/with EU and Asia with a strong focus on chemical compliance.
We have provided one-stop chemical notification and GHS services for many companies doing business in/with Asia (for example, China, Japan, Korea, Taiwan, Malaysia, and Philippine). We help them find out how their chemicals are regulated in those countries or regions and offer free initial consultations about how to comply. If notification is required, we help them submit chemical registrations. We also prepare or translate GHS compliant SDS and label in accordance with their national chemical legislation at affordable prices.
If you have any questions about chemical compliance in the EU and Asia-pacific region, please contact:
CIRS China

11F Building 1, Dongguan Hi-Tech Park, 288 Qiuyi Road, Binjiang District, Hangzhou 310052, China

Tel: +86-571 8720 6555 | Fax: +86-571 8720 6533

Email: 

service@cirs-reach.com

More info