14 Dec 2012, Free Webinar: GHS Labelling for Small Containers & Awkward Packaging
The presentation can be downloaded here.
CIRS is delighted to invite you to attend a free webinar given by Mr Morgan Prendeville about GHS labelling for small containers. This webinar's primary focus will be tackling the challenges of GHS labeling for small containers & awkward packages for chemical products(particularly for EU & China). Products that are mostly affected include chemical reagents, chemical samples, pen, paint & glues for consumer use.
Time and Schedule
Time: 14 December 2012, 10:00AM to 10:45AM, UK Time(GMT+0);
Presentation Focus: GHS labeling for small containers & awkward packages for chemical products
Presenter: Morgan Prendeville, CIRS Ireland;
Registration: Free of charge;
Main Topics to be Covered
Introduction to GHS;
Basic Elements of GHS Label;
Size Requirement of GHS Label;
Challenges with GHS Labeling for Small Containers & Awkward Package;
Case Studies;
Who shall attend?
Companies who use small containers to package their chemical products;
Companies who ship chemical samples in small quantities;
Suppliers of chemical products for consumer use such as pen, paint & glue;
Regulatory affairs staff;
Quality control professionals;
SDS & labeling professionals;
How to Register

After online registration, you will receive a link one day and one hour before the webinar starts. By clicking that link, you shall be able to join our webinar automatically.
Note: To attend this seminar, there is no need to call dial-in telephone number to access audio.
About the Presenter
Morgan Prendeville graduated from Dundalk Institute of Technology having received an Honours Degree in Business Management and Administration. He has much experience in consultancy and marketing practises.  Through training and practical case experience he has developed in dept knowledge in relation to the chemical compliance industry worldwide and specializes in SDS & GHS labelling within Europe.
CIRS is a world renowned independent firm which provides chemical regulatory consulting and hazardous substance testing services. With a strong focus on chemical compliance in EU & China, CIRS also specialises in CLP and REACH regulation compliance and has successfully guided many companies to achieve their compliance goals.
Contact Us
Europe Office
Unit 1 Ardee Business Park, Hale Street, Ardee, Co. Louth, Ireland
Tel : +353 41 9806 916 | Fax : +353 41 9806 999
Email: service@cirs-reach.com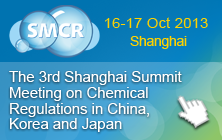 More info