7 March 2013, Complimentary Webinar: REACH & Supply Chain Risks
Please click the following link to download this presentation.
REACH & Supply Chain Risks by Yunbo Shi.
This webinar was succesfully held on 7 March 2013. More than 70 companies have attended it. The webinar gives practical case studies on supply chain risks associated with REACH and offers advice on how to reduce relevant risks.
Introduction
CIRS is delighted to invite you to attend a free webinar about REACH and Supply Chain Risks. This webinar's primary focus will be about how to work with REACH only representative to ensure REACH compliance along the supply chain and how to avoid common trade fraud related to REACH. If you import chemicals into Europe from China, this webinar will provide you with necessary knowledge to minimize your business risks.
This webinar is re-scheduled to 7 March 2013.
The following topics will be covered:
Case studies: trade fraud related to REACH;
Obligations of downstream users in case of only representatives;
Regulatory compliance audit of suppliers;
SDS Compliance and REACH registration 2013;
Issues related to intermediates;
Supply chain management advice;
Time and Schedule
Time: 7 March 2013, 8:45AM to 9:30AM, UK Time(GMT+0);
Presentation Focus: REACH & Supply Chain Risks;
Presenter: Yunbo Shi, CIRS China;
Registration: Free of charge;
Who shall attend?
Companies who purchase chemicals from China;
Please note that attendees need to have basic knowledge of EU REACH regulation.
How to Register

After online registration, you will receive a link one day and one hour before the webinar starts. By clicking that link, you shall be able to join our webinar automatically.
Note: To attend this seminar, there is no need to call dial-in telephone number to access audio.
About the Presenter
Mr Yunbo Shi is currently the managing director of CIRS, a leading provider of comprehensive chemical compliance services for companies doing businesses in/with EU and China with a strong focus on chemical compliance. He has extensive knowledge of chemical legislation in China.
Mr Yunbo Shi earned a B.S. in Chemistry from University of Science and Technology of China (USTC) and a Master's Degree in Chemistry from University of Maryland, College Park.
Contact Us
Mr. Yunbo Shi, Hangzhou CIRS Co. Ltd(CIRS China)
1288 Chunbo Road, Hangzhou City, China
Tel : +86 571 8720 6555| Fax : +86 571 8720 6533
Email: yunbo.shi@cirs-reach.com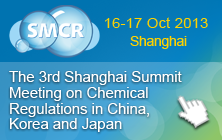 More info