EU Inventory of Cosmetic Ingredients - CosIng
CosIng is the European Commission database with information on cosmetic ingredients contained in the:
"Cosmetics Directive" 76/768/EEC (Cosmetics Directive), as amended;
Inventory of Cosmetic Ingredients, as amended; and
Opinions on cosmetic ingredients of the Scientific Committee for Consumer Safety(only limited to those published on the internet).
You can click the following picture to search CosIng by INCI name, CAS or EC number and find the function and restriction of a particular ingredient in cosmetics.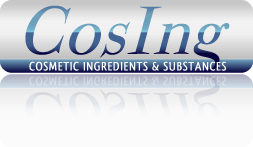 Please note that ingredients assigned with an INCI name which appear in CosIng (Inventory Section) are not necessarily actually used in cosmetic products nor are they approved for such use. However, for ingredients used in cosmetic products as colorants, preservatives and UV filters, only those authorized in Annexes IV, VI, respectively VII to Directive 76/768/EEC are listed in CosIng.
Updates of CosIng
Proposed updates of CosIng can be found below.
http://ec.europa.eu/consumers/cosmetics/cosing/
Cosmetic Ingredients & REACH/CLP
Cosmetic ingredients are treated as industrial chemicals in Europe. They are also subject to the requirements of REACH regulation and CLP regulation. More info can be found here.
About Us
CIRS a leading provider of comprehensive chemical compliance services for companies doing businesses in/with EU and China with a strong focus on chemical compliance.
Our services for Europe include REACH only representative, REACH (pre-)registration, SIEF/consortium representation, REACH SDS, C&L notification, classification of substances and mixtures, CLP labeling, and auditing support.
Our services for China cover new substance notification, registration of the import and export of toxic chemicals, registration of hazardous chemicals, classification and labeling in according to China GHS, Chinese SDS, risk assessment, pesticides, registration of cosmetics and new cosmetic ingredients with SFDA. We also deliver the most up-to-date regulatory information about chemical control laws in China.
In addition to above services, CIRS works with its global regulatory consulting partners to provide one-stop solutions to you regarding global chemical compliance.
Contact Us
Ms April Guo, CIRS China Office

11F Building 1, Dongguan Hi-Tech Park, 1288 Chunbo Road, Binjiang District, Hangzhou 310052, China

Tel: +86-571 8720 6555 | Fax: +86-571 8720 6533

Email: 

april.guo@cirs-reach.com