The 4th Summit Meeting on Chemical Regulations in China, Korea and Japan, 15-16 October 2014, Shanghai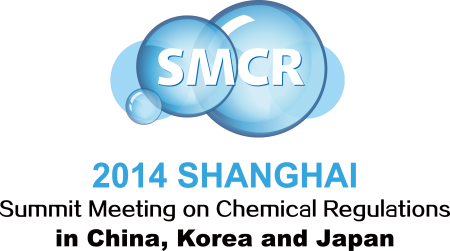 Chemical Inspection & Regulation Service Limited (CIRS) warmly welcom you to attend the 4th Summit Meeting on Chemical Regulations in China, Korea and Japan (SMCR 2014) on 15-16 October 2014 in Shanghai. The meeting focuses on chemical regulations and chemical safety management in Asia-pacific Region. Representatives from authorities, regulatory experts, industries heads will speak about opinions on regulatory updates, enforcement measures, and outlook of safety and sustainability of chemical industry in Asia-pacific region. Delegates can share information, communicate and exchange ideas on a global scale of chemical regulatory affairs.
Now, the speakers and agenda of SMCR 2014 are confirmed. Several companies have registered already. Early subscribers can avail of a discount on the early subscription fee. We also welcome and invite companies and organizations to become co-sponsors and gain promotion privileges during the meeting. Don't miss this great opportunity to know more about chemical regulations, news, updates and trends in Asia-pacific region.
Some of the highlights of SMCR 2014 include:
The outlook, opportunities and challenges of global chemical industry in 2014;
Updates and latest chemical registration requirements of K-REACH, CSCL, TCSCA, China MEP order No.7, etc;
Latest chemical management information about India and Malaysia;
Supervision of hazardous chemicals in Shanghai Free Trade Zone.

To view the full programme of SMCR 2014, please view the official website here.
You can check the latest agenda, download the brochure or register online from our website.

We look forward to your participation.

Best regards,

CIRS Regulatory Team
On behalf of the summit organization committee
Chemical Inspection and Regulation Service Group (CIRS)
Korea Testing & Research Institute(KTR)
Japan Environmental Management Association for Industry (JEMAI)