In the latest version "Measures for Safety Management of Dangerous goods by Road Transportation" (Draft for Public Comments),company shall be punished in following situations:
Article 59:--- Unofficial translated ---In case enterprises manufacturing, operating,storing and using hazardous chemicals are in one of the following circumstances, the transport departments shall order the enterprise to make correction in limited time and impose a fine between RMB 100,000 and RMB 200,000 (15,000-30,000 US dollars); In cases of gross violation, the safety manufacturing supervisionand management departments can order the enterprise to suspend its business for internal correction or revoke its license; In case the circumstances of crimes constituted, the enterprise will be charged for criminalobligation:
(1). Violationof paragraph 1 of article 7 of the Measures. The consignor entrusts any enterprises, units or individuals without the qualification of road transportation of dangerous goods to undertake the transportation;
(2). Violation of article 9 of the Measures.Dangerous goods are transported along with common goods; the classification of dangerous goods is falsely reported; or dangerous goods are claimed as common goods.
Please clickhere to get more information aboutMeasures forSafety Management of Dangerous goods by Road Transportation (Draft for Public Comments).
However, many enterprises cannot identify whether their products are dangerous goods or not in actual transportation. Generally speaking, these products shall be evaluated by the Commodity Inspection Center or other testing agencies which requires additional time and cost.
After the implementation of GHS, some enterprises have updated their product SDS and labels to comply with native GHS requirements. Because the classification of GHS usually corresponds with transportation classification (especially physical-chemical property classification), there is a convenient way to identify dangerous goods. Once one of following seven symbols appears on GHS label, the product can be classified as dangerous goods.
Note: The hazardous classificationH318: Serious eye damage/irritation Category 1doesn't meet the dangerous goods standard. Hence, if the product only has this hazardous classification, it doesn't belong to dangerous goods. Even if there is a corrosion symbol on GHS label.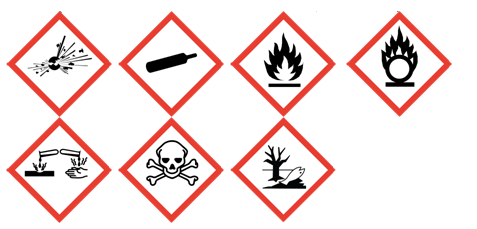 Corrosion symbol is corresponding to three type hazardous classifications:
Skin corrosion/ irritation

Serious eye damage/irritation.
The former two classifications meet the dangerous goods standards while the last one is not the condition for dangerous goods. Therefore, for corrosion symbol, company should review the hazardous classification to check whether product is dangerous goods.
Generally, the product that contains following symbols is not dangerous goods.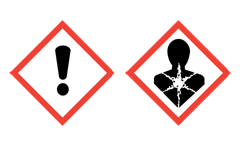 In actual law enforcement, lots of inspectors use above method to identify product quickly. And sometimeseye damage/irritationproducts are required to provide dangerous goods identification reports. In this situation, enterprises can argue with authority (refer to GB 30000.20- 2013), to avoid inappropriate classification.