On March 30, 2011, the former Ministry of Health formulated and issued the Administrative Measures on New Food Related Product, in accordance with the Food Safety Law and its implementation regulations, which was effective as of June 1, 2011. Afterwards, the Regulations on Application and Acceptance of New Food Related Product was issued to further standardize and refine the application and acceptance work, and came into force on May 27, 2011. Those two documents have played a guiding role in the scope, basic requirements, application and assessment of new food related products.
In 2016, the food contact materials (FCMs) regulation system has been basically established, and a positive list, including additives and resins, was adopted to manage the safety of food contact materials. Only substances that meet the requirements of GB standards or approval announcements issued by NHC can be used in the production of FCMs. Therefore, new substances which are not included in positive list need to be declared to the NHC in accordance with Administrative Measures on New Food Related Product, and submit the related safety assessment material.
What is the impact of the above incident on new food contact material notification? CIRS Group will help you review the application acceptance, approval types and passing rate of new FCMs in China, and carry out corresponding interpretation and analysis in the following texts.
Situation of application acceptance of new FCMs in China
From 2014 to May 17, 2020, NHC has publicly accepted 238 FCMs, including 72 domestic FCMs and 166 imported FCMs, which accounts for 30.3% and 69.7%, respectively.
Note: According to statistics from the China National Center for Food Safety Risk Assessment (CFSA), 5, 21 and 26 new FCMs were accepted in 2011, 2012 and 2013, respectively. This information cannot be verified due to the updated of the website of NHC, so it is not summarized here.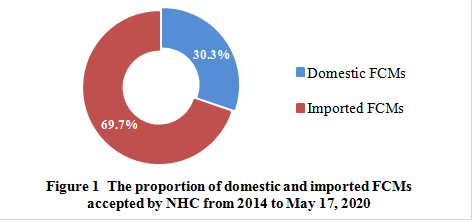 Note: The data were collected from NHC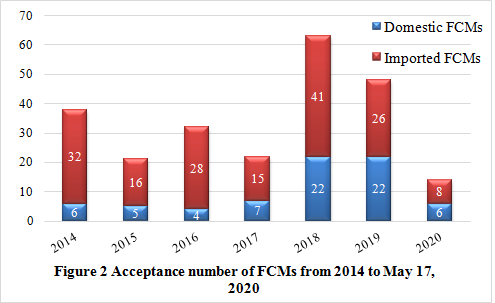 Note: The data were collected from NHC
In recent years, with the development of material technology and food industry, new substances in food contact materials and articles are constantly emerging. There is still a gap between the list and the actual industry needs due to restrictions on the current positive list management mode. At present, nearly 70% of the new FCMs accepted by NHC are foreign products, which means that there is a gap between China and developed countries in the innovation and R&D of new FCM, but it also reflects the great potential of China's innovation and industrial development in FCM industry.
It can be noticed from figure 2 that, the number of notifications have fluctuated in recent years. In 2017, with the implementation of new national standards such as GB 9685-2016 and GB 4806.1-2016, the positive list management mode has been officially implemented. CIRS speculates that it takes time to adapt to new regulatory system and management mode for companies, so it could be one of the reasons why the number of notifications declined in 2017. Meanwhile, the number of notifications in 2018 and 2019 increased significantly, which was also closely related to the implementation of the new national standard. Companies were urged to actively implement standards to improve product compliance.
Review and approval types of new FCMs in China
From 2011 to May 17, 2020, 174 FCMs have been approved by NHC.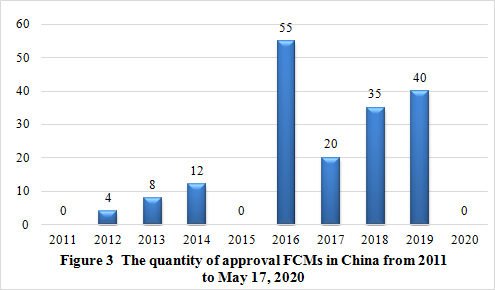 Note: The data were collected from NHC
There are usually 5 approval types of the new FCMs announced by NHC:

It could be noticed that, with the promulgation and implementation of FCM regulations and standards, the approved additives in the announcement issued before 2015 have been supplemented to GB 9685-2016. But The following two food contact resins have not been included in the relevant GB standard, and shall be used in accordance with related announcements.
Ethenol polymer with ethene, 1-(vinyloxy) propan-2-ol, and 2-(vinyloxy)propan-1-o1 (No. 14, 2013)
2-Propenoic acid, polymer with silicic acid (H4SiO4) tetramethyl ester, zinc salt (No. 14, 2014)
The passing rate of new FCMs in China
According to the requirements of the normal application process, it will take at least one year for a new product to get the certificate. Therefore, one new substance may pass the review in the second or third year, and then NHC will issue an approval announcement. CIRS analyzed the approval status of new FCMs in China from 2011 to May 17, 2020 in terms of the approval type and the application scope.
By approval type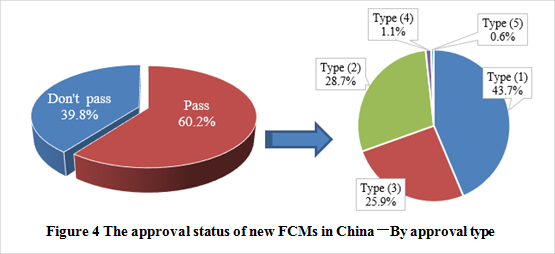 Note: The data were collected from NHC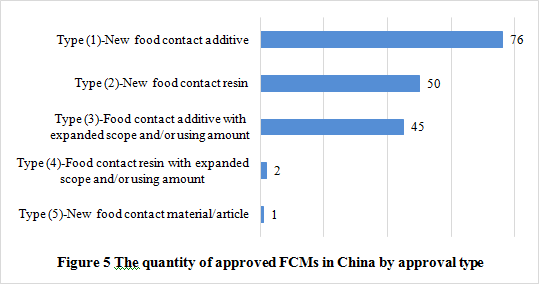 Note: The data were collected from NHC
See figure 5 to know the number of new FCMs and the approval types. The passing rate of new FCM notification was 60.2%. Among the approved products, type (1) accounts for the largest proportion, followed by type (2) and type (3). In addition, there is only one new food contact material/article among the approval products, which is amorphous hydrogenated carbon approved on October 31, 2017.
Besides, some products have not been approved after acceptance. Factors affecting if the notification are successful or not could be, analyzed by CIRS, 1) the preparation of notification materials, 2) the nature of the products, and 3) the use of the products at local and foreign countries, etc. In details, the following could result in the failure of notification:
The substances have not been approved in foreign countries;
The proof of technical necessity of using the substances are insufficient;
For polymer resins, the safety evaluation and analysis data of by-products in reaction process are insufficient.
By application scope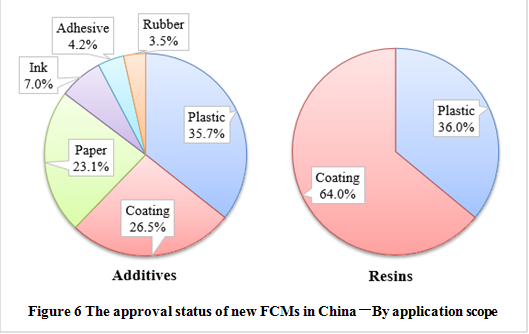 Note: Some additives have multiple application scope, here, they are treated as independent products.
In terms of the application scope, plastic products (35.7%) have been approved mostly as additives, followed by coating and paper/paperboard. In addition, the approved list also contains several additives for inks, adhesives and rubber. The approval of resin polymers mainly focuses on coatings and plastics. The application scope of substances approved are related to industry needs, and it also have a great relationship with the supervision and approval of various types of products abroad.
Analysis of the application and approval of new FCMs in China in 2020
In 2020, as of May 17, NHC has accepted the applications for 14 new FCMs, including 6 domestic products and 8 imported products. Up to now, no approval announcement have been issued. However, 10 of the new FCMs have passed the technical review of the CFSA Expert Review Committee and have finished public comments. Besides, the second Expert Review Committee Meeting was organized on March 19, 2020 and totally 6 new products were reviewed. It can be seen that the relevant review work on new FCMs has been steadily making progress, and CIRS will continue to pay attention to it.
For more information, please click on the New Food Contact Substance Notification (FCN) in China.
If you have any needs or questions, please contact us at
service@cirs-reach.com
.