Updated on 24 Oct. 2016
In accordance with the China GHS requirements (GB 15258-2009–General rules for preparation of precautionary label for chemicals, please click here for more China National Standards), Chinese SDS and labels must include at least one domestic 24h emergency number for chemical accidents if the products are classified as hazardous chemicals, please click here to know hazardous chemical management regulations in China and hazardous chemical identification.
Requirements for 24h Emergency Number Service

A copy of Chinese SDS/label, the SDS/label must be regulatory compliant with

China GHS

.

Company Information (name, country, address and contact person)

Contact point (Email and primary phone number)
CIRS has been authorized as promoting partner by National Registration Centre of Chemical (NRCC) of SAWS of China to provide their China 24h Emergency Number Service for manufacturers and importers worldwide.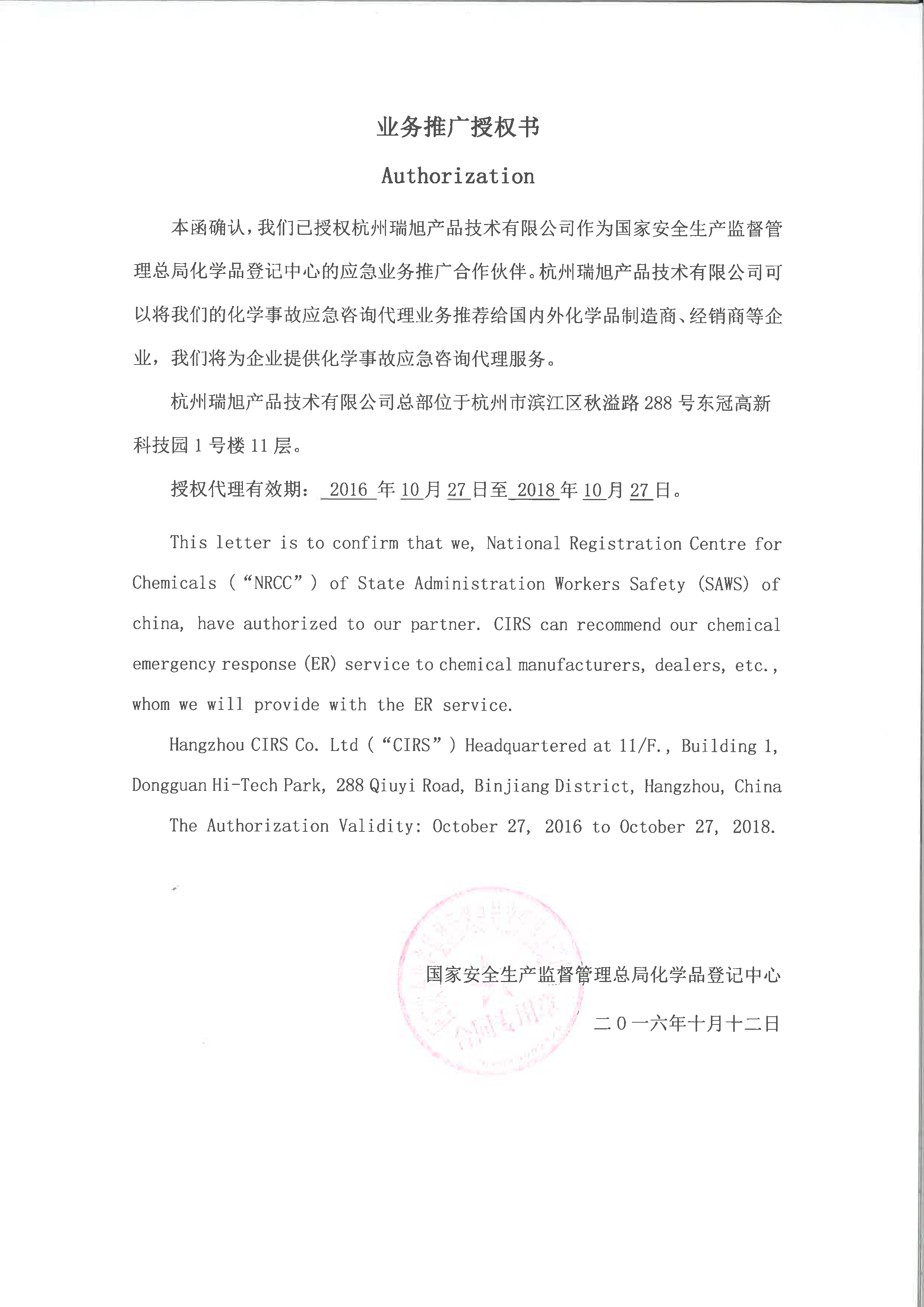 In case of an emergency

Professional advice on how to handle the accidents in 10 minutes will be provided.

Suggestions will be given to clients by phone, fax and email at the same time.

The emergency events will be recorded and kept for at least 5 years.

Emergency report will be sent to clients by email in 30 minutes.
---
About NRCC
The National Registration Center for Chemicals of the State Administration of Work Safety was established in 1997 and located in the scenic coastal city – Qingdao. As a public institution directly affiliated to the State Administration of Work Safety, it is a comprehensive technical support agency in safety administration of dangerous chemicals in China.
The Chemical Registration Center mainly performs a wide range of tasks, such as hazardous chemical registration, hazard identification and classification of chemical, emergency rescue of chemical accidents, safety standardization for enterprises engaged in hazardous chemicals, draft and revision of regulations and standards on safety management of chemicals, and subject researches on chemical safety management, monitoring of the major sources of danger, emergency rescue, prevention and control of occupational hazards, as well as relevant assessment, technical development, training and consulting services.
About CIRS
Chemical Inspection and Regulation Service (CIRS) is a leading product safety Regulation consulting firm providing valued product regulatory compliance service, tailored solutions and original information to help our clients gain competitive advantage by reducing business risks associations with regulatory affairs and removing barriers to entry.
With its headquarters and test center based in Hangzhou of China and offices or laboratories located in Ireland, Beijing, Nanjing, and Ningbo, CIRS utilizes its technical expertise, various resources and global network to provide comprehensive compliance services such as chemical notifications, global GHS compliance, pesticides and biocides registration, cosmetics and new cosmetic ingredient registration, medical device registration, food and food-related products compliance services, testing, regulatory update monitoring and training service.
---
If you have any needs, please contact us at service@cirs-reach.com