12 Oct. 2018, China Solid Waste and Chemicals Management Center released an announcement that from 15 Oct. 2018, related enterprises need to complete new chemical substance notification through the MEE online registration system (http://www.mee.gov.cn).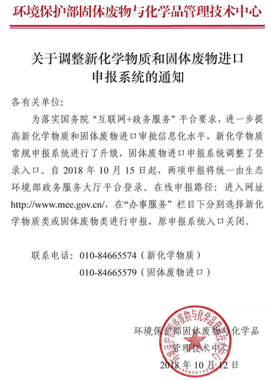 1. To complete notification, enterprises applying for new chemical substance notification need to complete user registration at first.


2. Then, after login, related enterprises can get to know the basic information of notification, notification process, examples of application materials, FAQs and documents relating notification, etc.


3. At last, after having all the materials required, related enterprises may fill in the notification information in the online notification page.

Currently, this notification system is still under trail operation. CIRS warmly reminds that related enterprises pay close attention to the online notification system and successfully complete new chemical substance notification.
If you have any needs or questions, please feel free to contact us at service@cirs-reach.com.