30 June 2017, ECHA visited Guangdong CIQ and exchanged ideas on the safe management of chemicals both at home and abroad.
CIRS works together with over 3000 enterprises on regulatory compliance under REACH. As one of the largest only representatives under REACH, CIRS takes this opportunity to meet with Mr. Geert Dancet, Executive Director from ECHA and Mr. Petteri Mäkelä, ECHA's International Affairs Officer in Guangdong. Both sides talked a lot during the meeting.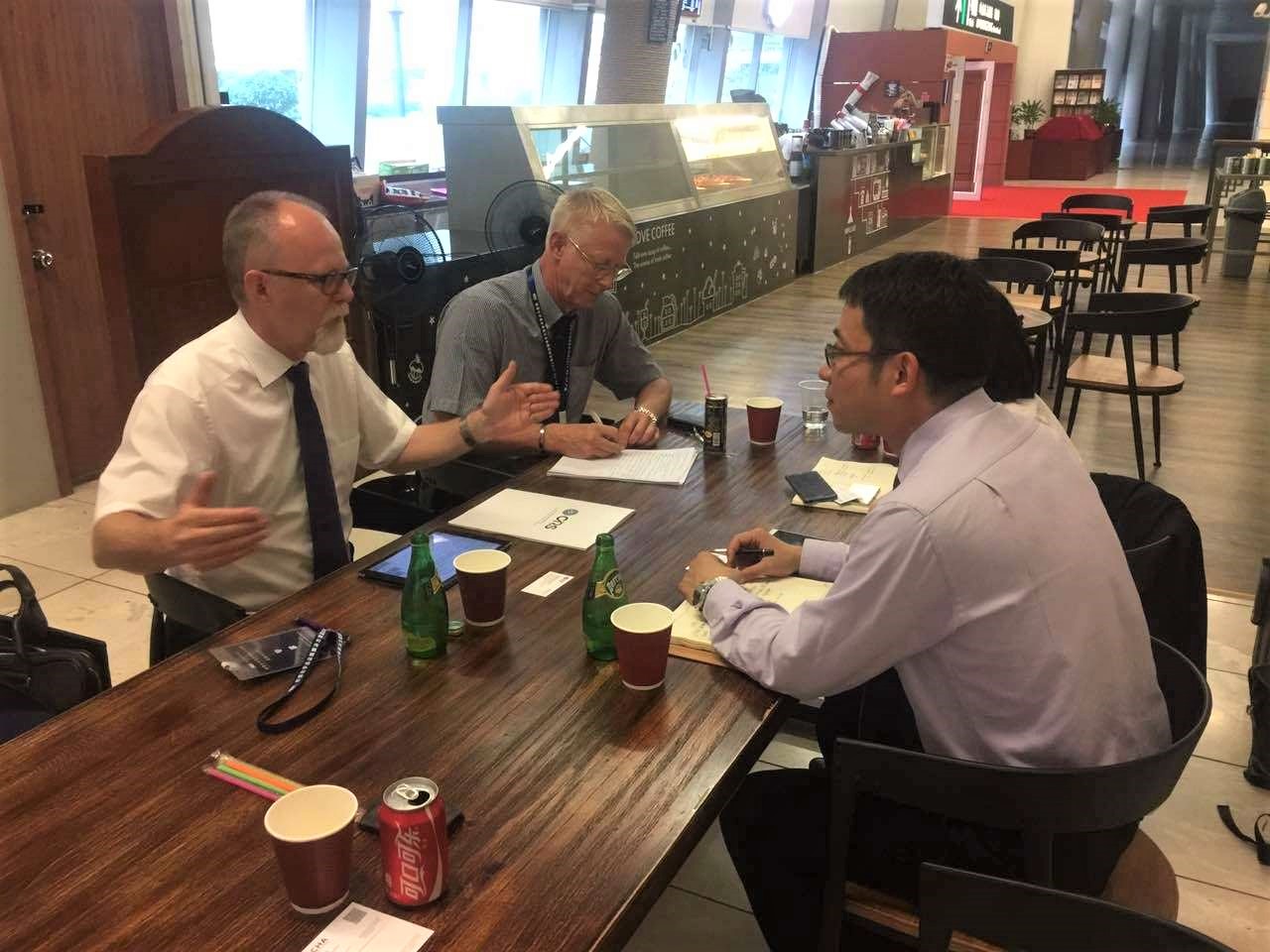 ECHA concerns about the status on how Chinese industries work on EU REACH compliance, especially for those small and medium sized enterprises and the regulatory compliance circumstances in China. It asked CIRS questions about problems that occurred during REACH registration,difficultiesof regulatory compliance, etc. CIRS gave a detailed explanation to the REACH market in China from the perspective of the driving force for REACH registration, the regulatory compliance situations as well as the distribution of chemical regions.
CIRS also consulted two officers some questions regarding REACH registration which the chemical industry is paying significant attention to. The questions mainly relate to: the roles non-EU traders played under REACH, the data and cost sharing mechanism, the monopolistic competition occurred during Letter of Access (LOA) purchase, regulatory supervision as well as questions concerning Britain's leaving EU. ECHA officers attached great importance to these questions and replied CIRS one by one.
CIRS summarized the major questions as follows:
FAQ
Q1.
CIRS: Typically, enterprises in China will choose to purchase Letter of Access (LOA) for joint submission. As the consortia and lead registrants can schedule the data sharing model for the LOA, most of the Chinese enterprises can hardly negotiate the price with the consortia and lead registrants. However, price for some substances, such as silicon dioxide, are not reasonable and some lead registrants fail to implement the reimbursement mechanism. What does ECHA suggest CIRS do?
ECHA: Supporting documents under REACH have given detailed explanations to data sharing and cost sharing. In principle, relevant members are all constrained by the supporting documents, yet there are still many data sharing disputes. It is suggested that only representatives should take the initiative to communicate with lead registrants or the consortia, obtain the LOA price composition as well as its details and settle the problem through consultation. If the problem cannot be settled through consultation, only representatives are able to appeal through ECHA's official website. Then, ECHA will step in and help to solve the problem. But it should be known that it is just the last resort.
Q2
CIRS: Most of the REACH registrations are finished through joint submission. As a result, it is unavoidable that competitors apply for joint submission for the same substance. So how can ECHA make sure that all the relevant parties can be impartial on data sharing? There is one case: only two enterprises apply for registration of one substance. The enterprise in Germany serves as the LR. The Chinese enterprise intends to purchase the LOA from the German enterprise for joint submission. However, as the two enterprises are direct competitors, the LR is not willing to sell the LOA to the Chinese enterprise by all kinds of reasons, which makes the Chinese enterprise fail to get registered on time. For this reason, its trades with others are hurt. The German competent authority told us that it will not step in to settle this problem. So what are the suggestions from ECHA?
ECHA: If the problem really cannot be settled through consultation, you can preserve all the relevant mails as well as documents and send them to ECHA. Then, ECHA will step in and help settle the dispute.
Q3
CIRS: Chinese enterprises are paying significant attention to the supervision under REACH. What are the current supervision circumstances and the trend of supervision?
ECHA: ECHA now focuses on the dossier completeness check and manual verification. In addition to this, ECHA will strengthen its supervision by uniting all member states competent authority and the customs. ECHA now begins to carry out this project. It is definitely a complex project, as European Union has 28 member states. In 2019, ECHA will also develop a pilot program on supervisions. Details will be revealed later.
Q4
CIRS:Britain is about to leave the European Union in the future. What are the impacts on only representatives in Britain?
ECHA: One thing is for sure that after Britain leaves the European Union, enterprises in Britain can no longer serve as only representatives under REACH. Details including how enterprises with ORs based in Britain can replace an OR will be determined after ECHA negotiates with interested parties.
Q5
CIRS: What are ECHA's suggestions to Chinese enterprises in addressing the regulatory compliance requirements under REACH?
ECHA: There are 3 suggestions: 1. Chinese enterprises should understand the liabilities and obligations under REACH. The last registration deadline is approaching. If enterprises fail to get registered in time, they can never export their products to the European Union; 2. ECHA encourages enterprises from outside the European Union to export environmentally friendly or non-hazardous products to the EU, for requirements and risks for these products are much lower; 3. ECHA encourages product research and development. Substances for research and development can get registered as PPORD. In this method, data requirements are much lower.
Q6
CIRS: In order to help Chinese enterprises better comply with requirements under REACH, what does ECHA suggest CIRS should do?
ECHA: There are 3 suggestions: 1. CIRS should cooperate with Chinese competent authorities better and assist competent authorities in giving instructions to Chinese enterprises; 2. CIRS should make an in-depth understanding of REACH regulation and pay close attention to the REACH related trends released by ECHA, such as the registration requirements and updates to the supporting documents. 3. Give feedbacks on problems occurred during REACH registration to ECHA, for instance, problems occurred in the newly updated REACH-IT, and give reasonable suggestions to ECHA. Eventually, ECHA mentioned that being an OR for so many Chinese enterprises, CIRS shouldered heavy responsibilities. ECHA is willing to collaborate with CIRS to assist Chinese enterprises in regulatory compliance under REACH.
For more information, please contact us at service@cirs-reach.com.