Japan Chemical Substances Control Law (CSCL)
Japanese Chemical Substances Control Law (CSCL) was initially implemented on 16 April 1974, and the latest amended law was published on 20 May 2009. The amended law will enter into force fully from 1 April 2011. In this article, we will only cover the amended CSCL.
Scope of Japan CSCL
Japan CSCL covers general industrial chemical products only, which include both new chemicals and existing chemicals. Food or feed additives, pharmaceuticals, cosmetics, agricultural chemicals and fertilizers are subject to different laws and acts.
General industrial chemical products might also be subject to the requirements of the Industrial Safety and Health Law (ISHL), the Poisonous and Deleterious Substances Control Act, the Air Pollution Control Law, and the Water Pollution Control Act.
The three government bodies responsible for the implementation of CSCL are the Ministry of Economy, Trade and Industry (METI), Labor and Welfare (MHLW), and the Ministry of the Environment (MOE).
Chemicals Regulated under Japan CSCL
The following categories of chemicals are regulated by Japan CSCL:
New Chemical Substances;
General Chemicals;
Priority Assessment Chemical Substances;
Monitoring Chemical Substances (~38 substances);
Class II Specified Chemical Substances (23 substances);
Class I Specified Chemical Substances (16 substances);
For more information about the definition of each category of chemicals and the specific requirements on each category of chemicals, please download our summarization table.
For more information about how polymers are regulated in Japan, please click here.
The picture below(from METI) gives a whole picture of how chemicals are regulated by CSCL.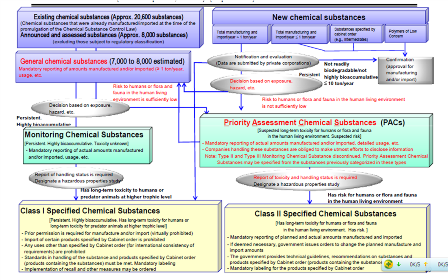 New Chemical Substance Notification in Japan
Manufacturers and importers in Japan shall submit new chemical notification to three authorities: METI, MHLW, and MOE, to obtain approval notice from the governments prior to the manufacture or import of the new substance. Foreign manufacturers exporting new chemicals to Japan may also submit new chemical notifications by themselves.
A new chemical substance is defined as a chemical substance other than those listed as follows:
Existing chemical substances (Approx. 20,600 substances): Chemical substances that were already manufactured/imported at the time of the promulgation of the Chemical Substance Control Law (CSCL) in 1973;
Notified chemicals by public notice from the three ministries (Approx. 6,778 substances);
Class I and II specified chemical substances;
Priority assessment chemical substances;
All existing chemical substances and notified substances are given MITI numbers which are important for custom clearance. All lists of chemicals mentioned above can be found at:
http://www.safe.nite.go.jp/english/db.html
Please note: The Japanese chemical inventories consist of different category of chemicals. There is no standard existing chemical inventory like China IECSC or KECI. Some people might call a combined list of existing and notified chemical substances as the Japanese Existing and New Chemical Substances(ENCS).
Note 1: New chemical substances shall also be notified in accordance with the Industrial Safety and Health Law (ISHL). ISHL has its own chemical inventory called ISHL List. By default, existing chemical substances under CSCL are also existing chemical substances under ISHL. However, ISHL has its own list of notified chemicals and regulated chemicals. This list is available at:
http://anzeninfo.mhlw.go.jp/anzen_pg/KAG_FND.aspx
Note 2: New chemical substances will be added to the list of notified substances after 5 years since the date of notification under CSCL. The same process takes only 1 year under ISHL.
It shall be noted that companies shall search both NITE's databse and ISHL list to confirm if a substance is a new substance in Japan or not. Japan's inventory is not easy to search and it requires significant expertise. There are two reasons:
In general, chemicals without MITI numbers will be regarded new chemical substances. Many chemicals can be found in NITE's database. However, they do not have MITI numbers. They might still belong to existing chemical substances because one MITI number might be assigned to a category of chemicals and correspond to different CAS numbers;
For polymer, it gets more complicated;we need to look at the composition of monomers;
ISHL list is only available in Japanese;
Note 3:
Do you also find it difficult to check the Japanese existing chemical inventory ENCS and verify if a substance is new under ISHL or CSCL? If you need assistance, please send your inquiry to service@cirs-reach.com.
Types of Notification and Data Requirement
This table below summarizes the types of notification and data requirements under Japan CSCL.
Category

Data Requirements

Full Notification for Polymers
>1t/y;

Notification form, blue card;
Results of polymer flow scheme test, IR spectrum, GPC data;

Full Notification for Non-polymers
>1t/y;

Notification form, blue card;
Results of screening test: Biodegradation and Bioaccumulation tests (or octanol/water partition coefficient test), Ames test, Chromosome aberration test, Repeated dose 28-day oral toxicity test, Algae growth inhibition test, Daphnia acute immobilization test, Fish acute toxicity test;

Small Volume Exemption(SVE);

<=1t/y;

Prior verification required;
Application form;
No tests required;

Low Volume Exemption(LVE);

<=10t/y;

Prior verification required;
Application form;
Results of biodegradation and fish bioaccumulation test (or octanot/water partition coefficient) must be available;

Exemption for Polymer of Low Concern( PLC);

Application form;
Test results that indicate the polymer meets PLC criteria;

Exemption for substances specified by Cabinet order;

Intermediates, for export only, or used in a closed system;

Prior verification required;
Application form;
Note 1: New chemical substances in articles, chemicals for R&D uses, polymers that meet 99% or 98% rules, some types of salt, waste and some other chemical substances are totally exempt from new chemical notification. No approval from government is required for these chemical substances.
Note 2: New chemical substances that meet the conditions of SVE, LVE, or intermediate will be exempt from notification. However, prior verification and exemption certificates are required.
Note 3:Intermediates are exempt from new chemical notification under CSCL. Those intermediates need to be notified under ISHL if the intermediates are transformed to other chemical substances in only own site.
Mandatory Reporting Requirements
Manufacturers and importers of the chemical substances below will be required to report their quantities, shipment and usage (use category) to the government annually between 1 April and 30 June starting from 2011:
General Chemicals;
Priority Assessment Chemical Substances (PACs);
Monitoring Chemical Substances;
Class II Specified Chemical Substances;
Some substances are exempt from mandatory reporting, for example, intermediates (excluding imported intermediates), low risk substances (water, etc), substances for R&D, substances with tonnage band less than 1 ton per year, and PLC.
Information Delivery in the Supply Chain
When Monitoring Chemical Substances or Priority Assessment Chemical substances are transferred between legal entities, the entity transferring the substance is obliged to make utmost efforts to inform the recipient that the substance transferred is specified as Monitoring Chemical Substance or Priority Assessment Chemical substances.
This is very similar to the communication obligations related to substances of very high concern(SVHC) under REACH.
GHS Implementation in Japan
The main law introducing GHS to Japan is the Industrial Safety and Health Law (ISHL). ISHL requires GHS classification data on labeling in MSDS
for the following substances from 1 Dec 2006:
99 designated chemicals for which labels are required according to Article 57 of ISHL;
640 designated chemicals for which SDSs are required according to Article 57-2 of ISHL;
Besides ISHL, the law concerning reporting, etc. of the release to the environment of specific chemical substances and promoting improvement in their management (PRTR law) has also required MSDS for over 400 designated chemicals.
More info about Japan can be found here.
Our Japan Chemical Compliance Services
General consultancy & training;
Search and confirm if a substance is new in Japan;
Confirm if a substance requires notification in Japan;
Dossier preparation and submission of new substance notification under CSCL and ISHL(full notification, SVE, LVE and polymer);
Test monitoring/translation of study reports;
Preparation of Japanese SDS and label;
Regulatory update monitoring.
About Us and Contact
We have provided one-stop chemical notification and GHS services for many companies doing business in/with Asia (for example, China, Japan, Korea, Taiwan, Malaysia, and Philippine). We help them find out how their chemicals are regulated in those countries or regions and offer free initial consultations about how to comply. If notification is required, we help them submit chemical registrations. We also prepare or translate GHS compliant SDS and label in accordance with their national chemical legislation at affordable prices.
If you have any questions about chemical compliance in the Asia-pacific region, please contact:
CIRS China

11F Building 1, Dongguan Hi-Tech Park, 288 Qiuyi Road, Binjiang District, Hangzhou 310052, China

Tel: +86-571 8720 6555 | Fax: +86-571 8720 6533

Email: 

service@cirs-reach.com