30 May 2013, Workshop on Latest Official Updates of Korea REACH
--------------------------------------------------------------------------------
This workshop was successfully held on 30 May 2013 in Shanghai. More than 40 companies have attended this workshop. As this workshop is not a free workshop, you cannot get all slides free of charge. However, you can get a free copy of English K-REACH guide. If you are interested in this guide, please contact:
Ms Jane Song/宋君女士
Email:Sj@cirs-group.com
Tel: 0086 571-87206590, Fax: 0086 571 8720 6533
Address: 11/F Building 1, Dongguan Hi-Tech Park, 288 Qiuyi Road, Binjiang District, Hangzhou, China 310052
If you woud like to understand more about Japanese chemical regulations, you may attend our workshop in Shanghai on 25th July 2013.
-------------------------------------------------------------------------------
主办Host:

杭州瑞旭产品技术有限公司
Hangzhou CIRS Co., Limited (CIRS)
韩国化学融合试验研究院
Korea Testing & Research Institute(KTR)
时间:2013年5月30日 Date:30 May 2013
地点中国上海市汉唐大酒店,上海市浦东新区 桃林路777号(近张杨路)
Add: HanTang Hotel, 777 Tao Lin Road, Pudong, Shanghai, China
语言:中文与韩语
Language: Chinese & Korean
Agenda日程
12:00-13:30

Registration注册

13:30-13:45

Opening Speech
Vice president of KTR

韩国化学融合试验研究院副院长

13:45-14:30

Chemical Management System in Korea
韩国化学品管理体系
Dr. J.K.,Tak Researcher

14:30-15:00

Tea Break茶歇

15:00-16:00

Latest updates of Act on Registration and Evaluation, etc., of Chemicals in Korea(K-REACH)
韩国化评法即韩国REACH最新进展
Mr.M.S.,Ryu, Team Leader of KTR

16:00-16:30

How to Comply with Korean Chemical Regulation 如何应对韩国化学品法规

16:30-17:30

Q&A Session 讨论交流
Registration/注册
The registration fee for the workshop is 600 RMB(~100 USD). The fee does not cover the cost of transportation and accommodation. Please send this registration form to the following email before 24th May 2013 if you participate in the workshop:
本次研讨会注册费为600元。交通和住宿费用自理。如果您有意向参加本次研讨会,请将会议回执于2013年5月24日前发到以下邮箱或传真:
Email: Sj@cirs-group.com (Ms Jane Song)
Fax: 0086 571 8720 6533

All attendess will get a copy of English version of Korea REACH guide. In the event that you could not attend this workshop and would like to get a copy of presentation, please contact Ms Jane Song. 所有参会企业会获得韩国REACH应对指南。如果您不能参加这个研讨会却想获得会议资料,请您联系宋君女士。
Contact
Ms Jane Song/宋君女士
Email:Sj@cirs-group.com
Tel: 0086 571-87206590, Fax: 0086 571 8720 6533
Address: 11/F Building 1, Dongguan Hi-Tech Park, 288 Qiuyi Road, Binjiang District, Hangzhou, China 310052
To follow more events and free regulatory updates from CIRS, please subscribe our monthly newsletter: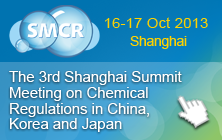 Download & More info